[Page Updated – 25 September 2023]
If you're visiting Krabi, you should read about Thai Culture first. There are many things different from your own country and you will be completely surprised by some of them. Stay on Thais' good side by following these simple suggestions – Thai Culture Info >
Main Tourist Areas (Beaches) of Krabi
There are four main areas of Krabi Province that this site focuses on: Krabi Town, Ao Nang Beach, Railay Beaches, and Koh Phi Phi Islands and Beaches.
Check out MAPS here. All Islands here.
Should you STAY IN KRABI TOWN or AO NANG BEACH?
Krabi Town
Krabi town is a very small town with some cheaper shopping than you'll find in Ao Nang. Many visitors come into town to visit Tesco, Makro, Big C, Vogue Mall, and the Outlet Mall shopping centers.
Here you can find information about some of the government offices and other resources in Krabi like immigration and the post office.
Get an UBER? There isn't any. Use this guy instead for ALL of your transportation needs.
Krabi Scams? Find out more.
The best PC computer shop you'll find in Krabi is on Maharat Road near the caveman traffic lights. The best APPLE store is in the TESCO complex on the second floor and it is called "iStudio." The best phone shops are also in Tesco on the first floor, or the official AIS, TRUE, and DTAC are on the second floor near the KFC restaurant.
If you're coming from abroad and you stay in Krabi Town you might be disappointed, depending on what you're expecting.
There are no beaches in town, but there are lots of cool activities you can do just outside of town like exploring Huay Toh Waterfall, Hot Springs, climbing 1,256 steps at Wat Tham Seua for a spectacular sunset, and other Buddhist temples, cave exploring at Wat Tum Sang Phet (Diamond wall temple), Kow Phung Caves, and trekking in Wildlife Tours at Phanom Bencha Mountain Resort or climbing a mountain 25km from town.
Of course, the Krabi Airport is just outside of town – about 10km. If you have a large bag you probably don't want to try to take a motorbike taxi that far so take a songthaew (truck with an open back with benches).
The main bus station for transfer between Thailand cities is in Krabi town on Uttarakit Road – the road bordering the river. The main post office is in town, also on Uttarakit road – but near the center of town and up the hill slightly and on your left. Be aware that there are no orange local buses in Krabi. Not sure why that is – but it is. 🙂
The immigration office, police station, bookstores, and great local restaurants and best food stands are in town.
There is no beach in Krabi Town! Just hotels and good places to eat.
Ao Nang is the main beach area in Krabi. This is where the majority of tourists stay and it really isn't expensive if you don't stay at the high-end resorts. Hotels and bungalows are available for 500 baht typically, and they're within walking distance of the beach (less than 500m).
Ao Nang Beach has a ton of small shops that sell Thailand souvenir-type items as well as some unique items by local artists. The atmosphere of Krabi's Ao Nang is much better than what you may have experienced in Patong Beach or Pattaya. The people are nicer. The pace, is a bit slower.
Ao Nang has all sorts of Western foods if you just can't adjust to the delicious Thai cuisine at the food stands and restaurants. Subway, Starbucks, Burger King, McDonald's, Pizza Company, and Swenson's Ice Cream are all there.
There is Indian food in Ao Nang, many Italian restaurants, and of course some Thai restaurants.
There are many resorts and hotels in Ao Nang, and some over in Tub Kaak which is further west – and far fewer people to contend with. Tub Kaak is a newer development, but it's basically barren.
There are few things to do outside of spending quality time relaxing with someone you love. There is a great hike up a mountain in Tub Kaak called "Hang Nak" or sometimes, "Hang Norn". It's a 3.7 km hike to the top of an exceptionally scenic viewpoint where you can see all of the beaches and islands for many miles.
There is little in the way of nightlife in Krabi. Krabi town has a couple of clubs – predominantly Thai attendees. Ao Nang has one main strip of bars that is just off Beach Road where the local and visiting expats seem to usually be.
There is no sex tourism in Krabi which caters to visitors, only locals. The entire place is not set up that way in the least. Local Thais and visitors with families find Krabi to be the ideal alternative to Pattaya and Patong Beach.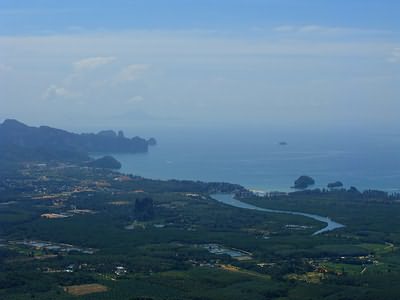 Besides Ao Nang Yai and Ao Nang Noi beaches, there is Noppharat Thara – an amazing Thai locals' favorite beach with shallow water walk out to nearby islands is one of the highlights for kids and adults alike.
Noppharat Thara has large fir trees that provide ample shade. Picnics are ideal here. It's just down the road (going west) from Ao Nang beaches.
Besides beaches in the Ao Nang area, you can visit one of the many diving centers and schedule a trip to suit you.
Ocean kayaking is popular, as are elephant trekking and kayaking down a freshwater stream created by a natural underwater spring vent that is a must-do at Sra Gaew which is a little hard to find on your own on a motorbike, but the intrepid will find it.
(Update: now closed.) You can also easily take a taxi or arrange a tour to Sra Gaew.
There is just one place in all of Krabi that rents good Trek bicycles. It is Krabi Eco-Tourism which is located close to Noppharat Thara Beach. They have tours to Huay Toh Waterfall and some areas by the beach.
Dogs are a problem when you're riding a bike – anywhere in Thailand. If you're squeamish about having a dog chase you or your kids you're probably much better to stick to walking, running, and kayak trips.
Railay Beaches are really beautiful and something you must see, if only for a few hours. There are places to stay on Railay East that are as low as 300 THB per night, and there are other, nice resorts that start at over 1,000 THB in high season.
Railay Beaches West and East are located in a remote part of Ao Nang which necessitates taking a longtail boat to reach. From Ao Nang, you might pay 100 Thai Baht and it takes 10 minutes to Reach Railay West.
Or you could go from Ao Nam Mao beach for 50-100 THB (20 minutes), or Krabi town at the river for 200 THB or more (35 minutes) – depending on how many travelers are going with you.
Railay is known as a world-wide famous rock-climbing destination. There are routes for every level of climber from easy to impossible. There are some rock climbing groups there, or you can contact them before you arrive to set something up.
In addition to vertical rock face climbing there is a hike that offers two different paths – one leads to an enclosed pool of water in the middle of steep cliffs and is nice to see but the water isn't so nice to swim in. The other path leads to a lookout where you can take some great photos.
Railay is usually crowded in the high season. There are some nice places to eat and sleep. There is a coffee shop there and internet cafes. Don't miss penis cave. And walk over the hill to see some climbers scaling vertical faces – sometimes without ropes.
An easy and fun way to see some of the most beautiful spots off the Krabi mainland coast is to book a 4-Island Tour to see them all at once. This tour takes about 7 hours on average and they give you water and fruit. Feel free to bring your own food too. We have a complete write-up on it here: 4 Islands Tour.
These islands are world-famous and usually quite crowded. They are not at all what you would expect if you were here many years ago. They have been built up to accommodate more and more tourists.
Still, many people find the experience to be an awesome must-see adventure. Boats leave from Krabi Town and Noppharat Thara Beach to Krabi daily during the season. Boats stop running from September to April from Noppharat Thara to Phi Phi.
Diving and snorkeling are major activities in these islands.
Ko Lanta is a group of 2 islands, Ko Lanta Yai and Noi. Yai means bigger, so on the bigger island is where you'll want to be when you stay or visit Ko Lanta.
There are some nice beaches all along the West coast of the island. The vibe here is super-chill and relaxed. Bob Marley and other reggae play constantly at the bars.
One spot you don't want to miss is the Mu Ko Lanta National Park at the Southern tip of Lanta. They have some of the best sand and beach areas, and rocky cliffs to climb and explore! Take the family for sure!
Ko Lanta Essentials – Everything you need to know now >
Which is Better – Krabi vs Koh Samui?
Are You Considering MOVING TO KRABI? Here's our Guide!
Krabi has a lot of surrounding ocean covering the coast and islands. Find out here what water activities are allowed.
See our FAQ for more info and links >