Snorkeling in Krabi is one of the most fun things to do on offer. We have a lot of beaches you can snorkel at in shallow water, but we also are surrounded by islands where the snorkeling is world-class! The marine life you can see is astounding, from small fish to big, and whale sharks, and sea kraits!
Where Are the Best Locations to Snorkel in Krabi?
Ko Phi Phi Islands! The Phi Phi Islands, including Phi Phi Don (the big one) and Phi Phi Leh (the small one), offer crystal-clear waters and vibrant coral reefs teeming with tons of different marine life. The most popular spots for snorkeling include Maya Bay, Loh Sama Bay, and Bamboo Island. GPS (Phi Phi Don): 7.746635127868411, 98.78102913024595
Ko Hong Island. Located in the Than Bok Khorani National Park, Koh Hong is a beautiful island known for its secluded lagoon and pristine beaches. Snorkelers can explore the vibrant coral reefs and encounter colorful fish species. GPS: 8.078064005253825, 98.67702029348646
Four Islands. The Four Islands tour, which typically includes visits to Koh Poda, Koh Tub, Chicken Island, and Phra Nang Cave Beach, offers excellent snorkeling opportunities. These islands boast shallow reefs with a variety of fish and vibrant corals.
Koh Lanta. Just a short boat ride from Krabi, Koh Lanta is renowned for its diverse marine ecosystem. Popular snorkeling sites around Koh Lanta include Koh Rok, Koh Ha, and Hin Daeng and Hin Muang, which are known for their rich biodiversity and larger marine species sightings. GPS: 7.584417899281581, 99.05262789708543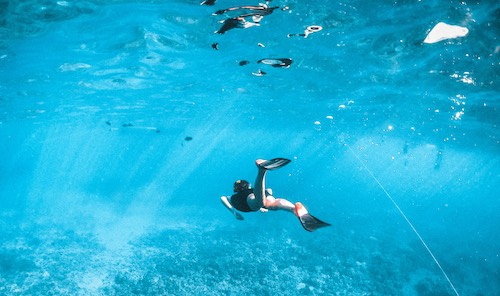 Ko Tub Island (Koh Tap). Chicken Island. Tub Island, located near the popular Railay Beach, is a small island with a stunning sandbar that emerges during low tide. Snorkelers can explore the coral gardens surrounding the island and encounter colorful fish. GPS: 7.9542152209377806, 98.80707119476398
Ao Nang Islands. The islands near Ao Nang, such as Ko Gai/Tup (Chicken Island), offer snorkeling opportunities with clear waters and vibrant marine life. These islands are often included in day trips or island-hopping tours.
Ko Yao Noi. Koh Yao Noi is the smaller of two islands with the same name. These islands are quite big and it's a mystery why they aren't as well known as some of the others. GPS: 8.125363208780321, 98.60691487087976
While not as well-known as some of the other destinations, Koh Yao Noi offers peaceful snorkeling spots with impressive coral reefs and diverse marine species. The island's surrounding waters are relatively untouched and provide a tranquil snorkeling experience.
When planning your snorkeling trip in Krabi, it's a good idea to find organized tours or hire local guides who can take you to the best snorkeling spots. They can also provide snorkeling equipment and share valuable information about the marine life you'll encounter.
You may not think of snorkeling as a dangerous activity but some people have heart attacks, and some are carried by currents and miss the boat back! Please be careful. Here is some more advice about staying safe while snorkeling in Krabi.
Snorkeling Cautions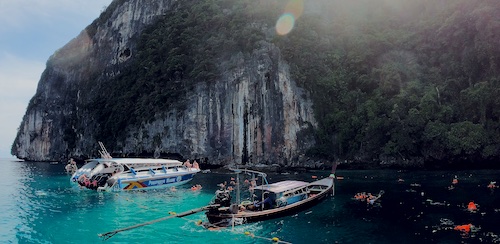 Go with a known snorkeling service that uses visible floats when snorkelers are in the water. Nothing like a boat running over someone who doesn't know there are people snorkeling in the water.
Currents can be strong during tides and other times of the year due to weather patterns. Again, going with a known outfit will help decrease the risk that currents present.
Count the people on your boat when you are heading out to the snorkeling location. Count them on your way back. It doesn't happen often, but occasionally someone is left out there and though the water is warm, it's a horrible situation!
Don't step on coral or rocks, the sea anemones can pierce your foot, even through some diving shoes.
Don't stick your hand in or near holes. We met a man who had a toe for a thumb replacement as he lost his thumb to a big moray eel after sticking it into a hole.
Though you probably won't have any problem, I would advise not to go out on a longtail boat (any boat) when it is only girls. I mean, 1 girl, 2 girls, maybe even 3 girls. The boating industry, the tourist industry, seems to attract unskilled Thais that can't seem to help themselves and attacks on tourists have happened.
Don't drink alcohol on your snorkel trips! Should go without saying, right?
Dangerous Marine Life
Though Sea Anemones are not going to kill you, they hurt a lot and can get infected. Our landlord from Canada came to Pattaya, snorkeled, stepped on one and had spines embedded in his foot. It got infected.
Box Jellyfish and other Jellyfish. These are common in Krabi, Trang, Ko Samui, Ko Phangan, Ko Tao, Phuket, and areas on the side of the coast facing the Andaman Ocean. Be very aware if you see jellyfish in the water to avoid them if possible (if low numbers) and to get out if there are too many. Box Jellyfish have caused fatalities in Thailand, and the pain is excruciating.
Eels. We've already mentioned. Eels don't typically attack anyone unless your hand is reaching for them, or into a hole, or something like that. Your fingers do look like a meal – remember!
Sharks. Sharks are not really a problem in Thailand for the most part. If you step on one or tease one, sure, you might get a bite. Otherwise, they stay to themselves and aren't much interested in you. We don't tend to have the aggressive sharks here like hammerheads, tiger sharks, bull sharks, or some of the other species.
Where Can You Find a Snorkeling Tour in Krabi?
You can make a reservation with just about any travel agency in Krabi Town or Ao Nang. They'll arrange a pick up for you to get you to the location and back as well. You can probably find a half-day of snorkeling for less than 2,000 THB including transportation, face-mask, snorkel, and fins.
PRO TIP! If you really want to ensure that you enjoy your snorkeling adventure in Krabi, bring your own gear from home. Really. The gear rented out here by snorkeling tour groups has been used by hundreds of people, maybe thousands. Bring your own better gear and your experience will be even better!
Other Water Activities in Krabi >