Introduction to Moving to Krabi (What's covered below?)
Have you thought about moving from your home country to Thailand? What about moving to Krabi? Many people across the world wonder if making such a move would be a good idea.
How well do they match with Thailand culture? Will they have good health insurance here? Are there international schools? What are the food options? How much is rent, food, insurance, gas, and daily living expenses like electricity and water?
We answer all of this for you so you can decide if Krabi is the right place in Thailand to move to. Let's get started!
Why Move to Krabi?
We could have moved anywhere in Thailand. We chose Krabi. Why? It's a great place to raise a family. It's rather safe. Uncrowded in Town. We have hospital choices, school choices, and shopping choices (and Central Mall is coming!). We have the beaches, the islands, and the mountains. We're close to Phuket, Trang, Surat (which has a Central), and we have an International Airport.
What Is the Cost of Living in Krabi?
As a family of 5 – Wife, husband, 2 kids, and Grandma – we pay about 35,000 THB per month for our expenses. Our townhome rent is 10,000 THB. Our food is around 15,000 THB. The other expenses are for gasoline and simple things around the house.
A single person may exist on just 20,000 or 25,000 THB. Or, spend as much as 60,000 THB per month! Nightlife can be expensive as can constant travel.
What Are the Visa Requirements for English Speakers?
This depends on the country you are from, the length of time you want to stay, and the reason you want to stay in Thailand. There are many rules which cover these conditions. You can find more here at Thailand Immigration.
What Are the Transportation Options in Krabi?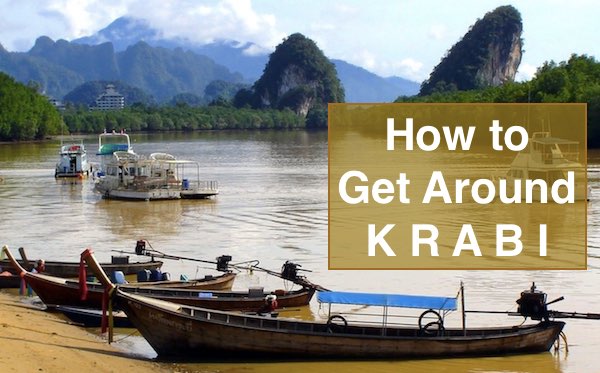 We have an entire article about your transportation options in Krabi here >
You can buy a vehicle – Honda, Toyota, Mazda, MG, and Suzuki here in Krabi. The prices will be slightly higher than maybe you're used to. Financing for foreigners doesn't exist for big-ticket items (expensive). You'll have to pay cash or secure other financing.
Finding a Place to Live
You can drive around the entire Ao Nang Beach area and Krabi Town in about a week if you have the energy. You can find listings on Facebook groups like Ao Nang Locals, Ao Nang Real Estate, Krabi Real Estate, etc.
I'd strongly caution you against building something new in Krabi (anywhere in Thailand). There are many horror stories of construction companies and realtors conspiring to take your money and build you nothing at all. We have a friend who lost over 4 million THB in a scam like this.
Best Places to Live in Krabi?
You can choose one of three areas:
1. Krabi Town. You'll be close to everything and it's just a short 15-20 minute ride to the beach.
2. Ao Nang Beach area. Rents are higher because if you're not renting long-term, the owner can rent to tourists who pay multiples of what you want to pay. The traffic can be a little crazy in Ao Nang sometimes, especially on weekend nights. You are a bit further from Lotus, Big C, and all the other stores in and around Krabi Town, but it's a short drive if you don't mind.
How to Find an Apartment or House
You can search online then go check out places on your own, or involve a real estate agent. Honestly, I'd suggest going yourself to avoid any scams. There are plenty.
Rental Costs and Buying a Home in Krabi
Homes in Krabi have steadily climbed in value. Today (late 2023) a 3 bedroom, 3 bath townhome will run you around 3.5-4 million Thai Baht. Keep in mind, the construction quality will be nothing like you are used to at home in your country. You'll have to see it to believe it, to be honest.
A 4 bedroom, 4-5 bath home in Krabi starts around 6-7 million THB in Krabi Town in a nice subdivision.
A small villa or townhome in Krabi Town will cost around 2.5 million THB.
In Ao Nang, the prices go up pretty dramatically for all of these options. You can multiply the above by 1.3-1.5 to get a number that probably fits. Keep in mind, there are dramatically different home prices depending on how old the home is and WHERE it is. Location, location, location applies in Krabi real estate too.
Utility Costs
Electricity for a large home when you are running the 1-2 air conditioning units at night for 8-10 hours, you have a large refrigerator, and you are using fans all day to keep cool, and you have electric induction heaters for your food, will probably be around 3500 to 4,000 THB per month.
We have a townhouse and our electric bill is about 3,500 THB per month on average and the above scenario fits us as well. We also have hot water showers and use them often.
Our water bill is up around 800 THB per month, and sometimes higher. We use an electric washer, and Grandma has a garden that gets plenty of water. We flush multiple times for each time we go to the restroom because the drainage isn't great. We have a leak in the kitchen that constantly runs when we forget to shut the valve on the wall under the sink.
What Are the Healthcare Options in Krabi?
We have a public hospital – Krabi Public Hospital. This is located down on the river road in Krabi Town. This will be your most comprehensive and cheapest option. Public hospitals do brain surgery, and all kinds of surgery. They have quite a bit of experience. It may not be clean. It may not be sanitary. But, they do a bang-up job and most people have their problems resolved right away and for the least money possible.
Krabi Town also has Ruamphat Hospital down in the Talad Gaew area where Uttaradit Road meets Highway 4 on the way out of town and toward the airport. This is a good option if you want less people around and don't mind paying slightly more for service. We often go here for small problems.
We have Krabi Nakharin Hospital. This is an international hospital that is located on Maharat Road in Krabi Town. This one is expensive and has good treatment, but there is plenty they don't do and would rather send you to Phuket's Bangkok Hospital for.
In Ao Nang, there is an international hospital "Wattanapat Hospital" that many people prefer to go to. They can handle a lot of lesser-involved medical issues and the price is higher than the public hospital but the service and care is quite a bit better. Much cleaner too!
Health and Life Insurance
Aetna is the company we use for our insurance. They cover everything and we don't need to pay anything at the hospital. We pay about 10,000 THB per month to cover all 5 of us. There are many companies you can use for health insurance in Thailand, but if you can afford your own international insurance, that's probably a better idea.
Getting Around Krabi
Driving in Krabi is tolerable and not too crazy except during high season if many Chinese come and the buses and white vans inundate the town and beach areas.
We ride motorbikes and also have a Honda. If you aren't familiar with riding motorbikes, it's better to buy a car or use public transportation.
Rental vehicles are quite expensive. You can get a simple Honda Civic or City for around 15,000 THB per month. That's nearly $500 USD. Bigger vehicles like SUVs (Toyota Fortuners) can be had for nearly $1,000 USD per month.
Taxi Cars. There are a couple of Toyota vehicles like you can find in Bangkok and Pattaya. These are usually found in Krabi Town by the Vogue Mall, or along Ao Nang Beach.
Motorbike Taxis. These are all over town and the beach, and are ideal for short rides of less than 5 km. and for just 1-2 people ideally.
Grey/White Vans. These are all over and usually handle trips that are over 30 km (20 miles) away. If you have a shorter trip, you can use a Songthaew or motorbike taxi.
Visas and Immigration
Krabi Immigration is down off Krabi Road near the Krabi dock (the big dock) where there is a Thai military boat on display. They are usually pretty easy to work with, but they stick by the law and don't take bribes as far as we know.
How to Get a Visa for Thailand
Visitors from the USA, Canada, UK, AU, and other places can get a visa on arrival to stay in Thailand for 30 days if you cross the border by flying from another country. You can then extend it for another 30 days if you pay a small fee.
If you walk across a border, at the moment you can get 30 days, but they may change it to 15 days as they have done in the past.
How to Extend Your Visa
Just visit Krabi Immigration and ask for an extension on the visa you have. It will depend on the law, but for many people, it's quite easy.
Crime in Krabi – What to Be Careful of?
There is little direct crime on tourists or foreign residents staying in Krabi, either in town or at the beach.
The few murders and attacks that have happened here to foreigners have been at night in Ao Nang or nightlife areas in Krabi Town. Alcohol and drugs seem to play a part. For the best experience, avoid going out late at night and angering people who are not themselves and under the influence of some drug.
How to Stay Safe in Krabi
Be careful to understand Thai culture. Do as much as you can to keep interactions with Thais friendly and understanding, even if you're right (or wrong). Learn all about Thai Face and what it means in Thai culture. You don't want to cause people to lose face if you can help it!
See our article about Krabi Cautions here to help you stay safe.
What Are the Cultural Differences between Thailand and Your Home Country?
There are quite a few cultural differences between the countries, but Thais are forgiving for most of them. Still, you need to know some of the essentials. We've covered Thai Culture here >
Thai Language – Can You Live in Krabi without Speaking Thai?
Yes, you can! The level of English here is getting better, and you won't have too many problems if you don't speak any Thai at all. Keep in mind, you can hire someone as a translator for you that with make a lot of your transition better!
You should probably start learning Thai so you'll know a few hundred words and can interact with the other 90% of Thais who cannot speak any but the most basic English.
Here's a quick Thai Lesson for you >
Finding a Job in Krabi
There are few jobs in Krabi for foreigners. Teachers have a very hard time finding a position, and they are paid peanuts. Literally! You can count on about 32,000-35,000 THB per month as a full-time school teacher in a public school here.
There is a large list of occupations that are off-limits for foreigners and reserved for Thais. These positions are usually what anyone could do, regardless of education.
You could start a restaurant or bar, or some other kind of business if you have the 2 million baht deposit and can hire a number of Thais to be in your business. We know a few foreigners who have restaurants here, all of them successful.
We wrote up an informational page about Finding a Job in Krabi here.
FAQ
Is Krabi Thailand a good place to live?
Is Krabi expensive to live?
Is Krabi good for digital nomads?
What should I be careful about in Krabi?
Is Krabi, Thailand a good place to live?
We have lived in Krabi for 16 years. We think overall it is one of the best places to live in Thailand if you want clean air, good food, and a relatively inexpensive place to live in the country.
Is Krabi expensive to live?
Krabi's cost of living is less than the popular islands like Phuket, Ko Samui, and Ko Phi Phi. An average family of 4 can live in Krabi for around 35,000 THB per month ($1,100 USD).
Is Krabi good for digital nomads?
Krabi is great for digital nomads, we have lots of delicious places to eat and drink coffee, and fast internet. The problem with digital nomads living in Krabi is that all the digital nomads have chosen the much cooler area of Chiang Mai, Thailand instead.
Key Takeaways
Learn some basic Thai phrases. This will help you get around and communicate with locals.
Be patient and understanding. Thai culture is different from Western culture, so be prepared to adapt.
Don't be afraid to ask for help if you need it. The Facebook Ao Nang Locals group is good for that. At least for great advice!
Don't expect to come here with the bare minimum and build a life, an income. Come here with income, savings, and add onto it in time by starting a business… or just relax and enjoy retirement in one of the most beautiful places in the world!
If you're considering MOVING TO THAILAND – here's a great book that can help you get started!
All material is ©KrabiNature.com.