We have lived in both Krabi and Phuket and we have an idea which is better for us, but is it better for you?
Phuket is better for people who want more activities, more places to eat with a wide variety of cuisine, and the best in Thailand's nightlife. Krabi is better for a relaxing, quiet, and stress-free vacation.
We lived in Krabi for 16 years now, and we prefer it. For us as a family, Krabi is better because it has less traffic, less people, less stress, it's more affordable and less focused on the nightlife. If you are single or with a partner, you will probably enjoy Phuket even more than Krabi if nightlife and active things to do are your focus.
Choosing Krabi or Phuket as the better place to visit or live will require a lot of research. We help you with that below.
Krabi vs. Phuket – Which one should you visit?
[Page Updated: 26 September 2023]
Table Showing Krabi vs. Phuket Comparison
Krabi
Phuket Island
Nightlife
Ao Nang bars, mild not wild
Wild, crazy, and naughty
Safety at Night
High
Sketchy
Beaches
Phi Phi, Lanta, Ko Jum,
Noppharathara, 18 Islands

Dozens of perfect Beaches
Recommended
Stay
1+ weeks
1 week, or 2 if like action
Best Months
Dec-April
Jan-March, July-Sept
LGBT
Good
Great
Close by Islands
18+ islands to visit
22 Islands to visit
Close by Places
Phuket, Phang Nga, Trang, Phuket, Phi Phi
22 Islands, Phang Nga
Cost
Reasonable
Quite Expensive
Traffic
Almost none in low season
Always bad traffic
Friendliness
Great
OK, more transactional
Top Activities
Swimming, hiking, hot springs, rock climbing, Crystal Pool, caves, waterfalls
Jet ski, swimming, tanning, banana boat,
restaurants, shopping, waterfalls, Soi Bangla
Singles or Family?
Both!
Singles and families
Table showing the differences between Krabi and Phuket.
I asked myself, which place is better – Krabi or Phuket Island – a little while back when I was considering moving from Surat Thani down further south to either Krabi or Phuket (Patong Beach really). I had been to Phuket and lived there for a couple of months when I first arrived in Thailand. I loved it for the nightlife, but I had a family now and couldn't be bothered with that.
I had been to both areas about ten times as we did long weekends and other vacation holidays. We loved Krabi Town and Beaches for so many reasons, but there were no jobs here. We ended up moving to Krabi, as you might have guessed. We've lived here for about nine years now.
Here are some Advantages of Living in or Visiting Each Area
Phuket Advantages
Nightlife Until You Cannot Stand It Any Longer. There is some really good nightlife in Phuket – live bands, and ladyboys dancing on the stages who really get into dancing. There is excellent food and drink specials. Some bars have bells that are rung multiple times each night and everyone in the bar gets a free drink when someone buys them. That's always a good time! There are hundreds of good bars in Phuket. There might be a dozen, maybe two dozen in Krabi.
More International Food in Phuket. There are hundreds of great restaurants in Phuket Town, Patong Beach, Kamala and other areas of the island. Many more so than in Krabi, I can tell you that! If food is one of the top criteria on your list – Phuket is hard to beat. In the south, it is impossible to beat – hands down, best food options – but definitely more expensive. Anything you want can be found in terms of Starbucks, western food, even some foreign food – pizza places abound. Mexican, Japanese, a lot of variety, and of course excellent Thai food.
Better Schools. If you're moving with a family and you have a child who needs to attend an international school – then Phuket is your winner over Krabi – easily. Krabi is still struggling to create a good school, though we have one new international school that might work out OK. Phuket has a number of good schools that are well-established with the British Curriculum and top-level teachers.
Easier to Get Teaching Jobs in Phuket. Because Phuket has a number of good schools and far more foreign residents on the island, it is the better place for someone hoping to teach English to Thai kids, or international kids. Krabi is really hurting for jobs!
Better Travel Options at Phuket's International Airport. There are many more locations served internationally from Phuket than at Krabi's International Airport. Many more people fly into Phuket, so they have a bigger airport with more travel options.
Better Healthcare. There is a branch of Bangkok Hospital in Phuket which is probably the best hospital in Southern Thailand. Though Krabi has an international hospital, they have limited services from what I've heard, and often times they send patients to Phuket's international hospital.
Better and More Variety of Beaches. Being an island, Phuket has many more and better beaches than Krabi does. In Krabi, we have marginal beaches which are polluted with heaps of trash. There are cleanups by foreigners every couple of weeks, but still, the trash is rather depressing. Phuket takes better care of their beaches because they have the money to do so, I guess. I think all the best beaches are easily reachable by car or motorbike – no need to rent a tuk-tuk or van, unless you're afraid of driving and then yes, we understand!
Shopping! There are multiple Central World Malls on Phuket Island, and shopping of all kinds whether it's furniture or decorations for your home or business or clothing for you and your family. Phuket has more shopping than anywhere south of Bangkok.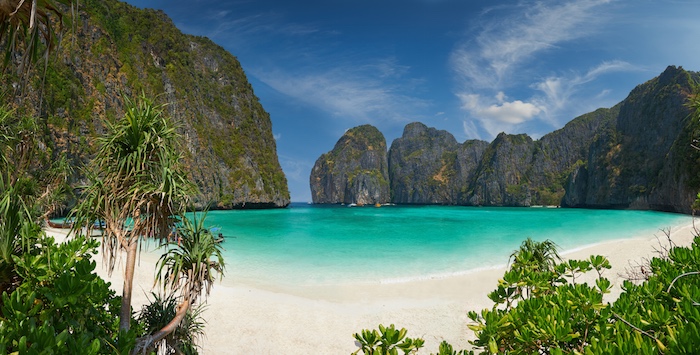 Krabi Advantages
Fewer People to Deal With! Here in Krabi, we have far fewer people in town, in traffic on the streets, and at the best attractions. Though, this is changing as we are constantly getting more visitors as the years roll by. Traffic is non-existent. It's much safer to ride a motorbike, bicycle, or car in Krabi. People are stressed less. The atmosphere is much more relaxed than the pressure-cooker feeling of Patong Beach. Ao Nang Beach has just a tiny fraction of the people running around.
Cheaper Food, Housing, Hotels, Attractions. This is a big reason to just come to Krabi and skip Phuket. Krabi is cheaper than Phuket, but it is getting to be one of the higher.
No Real Nightlife – so we have fewer problems late at night. Still, there are some robberies, attempted rapes, and other things that happen mostly around Ao Nang Beach and Koh Phi Phi.
Foreigners Treated Differently – not looked at as ATM machines (as much). There is no gawking at foreigners and you'll likely never see a Thai bar girl trying to do business in the streets like so often happens in Patong.
Closer to Other Great Places. We decided on moving to Krabi for a couple of reasons, and one of them is because it is in the center of so many cool places: Phuket, Phang Nga, Surat, Koh Samui, Satun, Trang, and Nakhon Si Thammarat.
Less Crime. This is a major benefit if you have a family. I couldn't deal with our home being broken into or fights in the street by cab drivers in traffic. Krabi is safer, though still, we have our share of horrible crimes every now and then. Drink less and stay out not quite so late to avoid some of the worst any Thai vacation spot has to offer.
Better Mountain Trails and Deep Rainforest. One thing we have in Krabi over Phuket's selection is the mountains. We have a couple of long deep rainforest sections we can walk through for hours. The mountains are higher in Krabi (Ngorn Nak and Khao Phanom). There is a wider selection of reptiles roaming the rainforests here for sure!
Phuket Negatives
Crowded and Traffic. Beach Road and, well, every other road in Patong Beach is too small, and dangerous drivers are everywhere.
Crime. Crime is getting nuts now that so many people are on drugs on the island. It's unlivable just for this reason in my opinion.
Prices. High prices compared to other Thailand spots. Higher than Krabi on average for Tuk-Tuks, taxis, etc.
Bargirls / Ladyboys. Everywhere. Keep track of your husband or he'll turn a 10-minute 7-11 run into a 5-minute 7-11 run and 5-minute pay-for-play!
I'd not call it a family destination. Though the choice between Patong and Pattaya is clear for where to bring your family, Krabi is still much better for families.
Locals. I don't get the impression they're very genuine in Patong / Phuket town. Money is tight in this market. Business is the reason everyone is there. There is a lot of competition. A lot of stress to make enough cash apparently.
Krabi Negatives
No Nightlife. Literally, there is very little in the way of anything at all going on at night. You can find bars that are open in Krabi town. At Ao Nang Beach you can find a very small soi with some Patong-style bars but they're not anything to get excited about. That's all there is though – so if that's what you're craving look for that soi.
Few Housing Options. If you already have a home, great. If you're looking for one that suits you – good luck! We just moved again after 4 years of living in a place that we settled for. Finally, we found a nice one. Though we're paying higher prices than Phuket. That's another negative.
Cost of Living. I think it is actually higher than Phuket in many respects. Especially housing.
I can't think of anything else as a negative for Krabi. Maybe the fact that the level of English here is dramatically lower than in Patong Beach and Phuket. Maybe the fact that there isn't an international hospital here would be a negative for some.
Krabi overall is a much better choice and has better and less crowded attractions (waterfalls, hikes, mountains, springs, beaches, islands) than does Phuket/Patong.
Am I jaded?
How to Travel from Krabi to Phuket (and other solutions) >
All Krabi Attractions (Things to Do) >