Krabi has a few caves to explore if you're adventurous. Here are some!
Best Krabi Caves Near Krabi Town
Choose from the links below to see more information, or scroll down this page to see an overview of each of these caves.
Krabi has a lot of caves you can explore – here are some of the best caves you can find. If you're a SERIOUS cave explorer (spelunker) we have a cave for you that is very rarely seen or explored and it is massive. Contact us here.
Small, but worth going if you're on the way to Huay Toh Waterfall down the road at the national park. This is Rattanporn Cave at Wat Thepprattan. The image at the top of the page is of Wat Thepprattan area, but there is another entire cave on the grounds here.
This is a rather hidden cave located outside Krabi town which VERY few people ever see. It's not for everyone, so let me describe it for a bit here and then you decide.
This is a small Buddhist temple with just a few monks there at any one time. This cave is amazing to see, and it's great for photos, you should definitely climb the steps and take some shots from inside looking out.
This entire cave will take 10-15 minutes to see, that's about it. Then, climb back down the steps and go across the parking lot and walk toward the other side of the hill.
There is a rather cool cave you can walk through over there. Hopefully, there will be a monk that sees you and volunteers to take you through the caves. PLEASE DO give 50 – 100 Thai Baht each as a donation for this very small temple.
The monks here survive on donations and food given to them in the morning during their rounds on pindabot.
Bring your own flashlight, or, they often have some you can use. Some of the caves are very dark. If you're very lucky you might see one of the bat-eating snakes hanging on the walls of the cave. They are completely harmless for humans, and are great photo opportunities!
So that's about it for this cave. Well worth an hour to walk around.
More Info on Wat Thep Rattan ->
Directions: From Talad Gaew intersection at the edge of Krabi Town, go toward the Airport on Highway 4. Make a left at the road with the sign leading to the Huay Toh waterfall.
Drive until you cross a bridge and see a road connecting with the road your on – on the left. Do not turn, continue on the road you're on. On the right will be a small primary school that has a fence which is white and purple. On the OTHER SIDE of the street is a road that splits off to the left. GO LEFT down that road.
About 2 kilometers down that road – which is dirt at some point. You'll see yellow Buddhist flags on the right side. Make a right there. Travel down a very small road and up a small hill to the temple. A bit hard to find, but worth it for a quick something to do in Krabi!
---
This is located close to Khao Phanom Bencha National Park entrance, and yet it's separate. There is no fee for coming to this cave and inside you'll find it quite interesting. There are at least 2 entrances, the most noticeable is as you pull up to the walkway it's there on your left after some climbing.
Here is our FULL PAGE fact-sheet on this cave.
Inside the cave is very dark for the most part so you'll need to bring a good flashlight (torch), and a backup just in case the batteries go dead or the light burns out.
Inside I found a couple of toads – their eyes glow in the dark and of course many bats, and some geckos, whip scorpions, spiders, crickets. The bats are harmless and you shouldn't let that deter you from exploring the caves Krabi has on offer.
Sometimes there is a small girl or woman outside on a bamboo bench who will take you into the cave and show you around for a fee. Give her 100 baht – it's worth it as you won't know where you're going without her!
Directions: Drive out of Krabi town on Uttaradit Road (river road) and at the intersection with Highway 4 (big road) make a right. Go until you see signs for Huay Toh Waterfall (a blue sign with white waterfall).
Make a left there. Go about 20km up that road almost at the very end – when you will see a sign for Kow Phung Cave and Elephant Trekking on the right side.
---
This is a Buddhist temple that also has an interesting cave to look at. On the walls of the cave – limestone walls, are these sparkling stones that are like diamonds. The name 'phet' means diamond in Thai language.
To find the cave in the temple. After you park your motorbike or other vehicle walk up the main walkway and turn right under the limestone -and seemingly as if you're in the monk's quarters. You're allowed here. Say – tum, you ny? Cave – is where?
Someone will show you where. Or, if nobody comes just keep walking through – past where the monks eat and even some doors behind which their kuti (hut) is… and walk to the rocks with a path up.
There is a light that should be on – if not – go back and ask someone – Mee Fy mai? (Do you have lights?)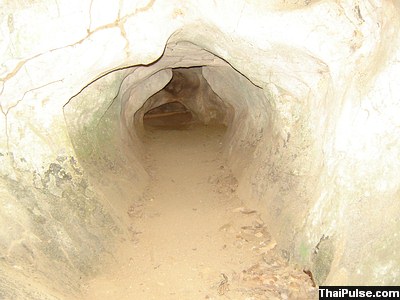 Hopefully, someone will turn the light on for you in the cave. There is a door to get in. I think they have some important Buddha statue there they don't want to be taken.
Take photos once inside – it's OK.
Explore the rest of the temple at will – and take photos.
We have a full description of this cave and temple grounds here >
Directions: On the same road as Huay Toh Waterfall. Once you make the turn onto this road from Highway 4 – go about 6 kilometers and start looking on the left side for a limestone karst formation that is close to the road.
That is really the only way you're going to find it because there are no signs on the road. The entrance shows a concrete arch over the road and the limestone karst is right behind it.
---
Lang Rongrian Cave
This is just past Wat Tum Sang Phet on the same road leading toward the Huay Toh Waterfall and Kow Phung Cave. Go another 2 km past Wat Tum Sang Phet and on your left you'll see a small school. Just before that school is a small road that goes beside the school. Take it and you'll see the Rong Rien Cave on the left side of the school.
This cave is famous in Krabi because they found some historical artifacts and human skeletons that were 37,000+ years old there. It's fun to walk around the cave and take some photos. The mosquitoes are especially fierce here so don't forget your repellant with DEET 28 or higher.
---
Sra Gaew Caves in Ao Nang, Krabi
Closer to Noppharat Thara beach than Ao Nang is a small place called "Sra Gaew." They have Kayaking down a freshwater spring that bubbles up from the ground. It's a lazy float down the stream about 1.2 km in total and a truck picks you up at the end and takes you to your motorbike or van if you came with the Sra Gaew Tour group. Note – this place is open off and on. You may find it closed when you go.
There are two more cool things to explore in Sra Gaew. One is the caves – and you can climb up into them as far as you dare. It's very slippery from the dry, dusty dirt and there aren't ropes or handrails the further you get up into the cave. It's fairly dangerous I guess.
The views are very nice though – and if someone is elephant trekking you can get photos of them going through the rubber trees. A nice view and fun to explore the caves here.
The other attraction in Sra Gaew is the 200m deep pool of fresh water that is the deepest lake in southeast Asia. There is no sign – it's just past the elephant trekking and the caves on that same road. Look to your left and find this amazing pond you can swim in.
---
Wat Tham Suea in English is, "Tiger Cave Temple". Long ago a tiger used to live in the cave that now houses their shrine to Buddha. This "Tiger Cave" is located on the 2nd floor of the building with the "Wat Tum Sua" sign on the outside of it right at the parking area in the front of the temple.
There are more caves in the foothills area. To reach them go straight back toward the large Chinese looking pagoda with Kwan Yin – the goddess of compassion standing and looking down on you. Just to the left, you'll see about 100 stairs. Take those up, then down another 90 and reach the foothills area.
There are numerous caves here – and you can walk in and explore most of them. Some places are OK for meditation if you can stand the mosquitoes. A better place to meditate is at the top of the mountain. There are some where the Buddhist monks reside that are off-limits, but someone will tell you. You can see bats in these caves, they are well lit and have some interesting Buddha shrines inside.
Tours of these caves can be done together with the Huay Toh Waterfall Tour because they are close together in location.
If you would like to plan a tour of some of these caves, use the following contact info:
* * * * * *
Krabi Attractions >
For Cave Tours Info around Krabi Town and Beaches, and Info around Krabi Town and Beaches – Click HERE.