A lot of visitors have never heard of Trang before and so they are wondering whether it might be better than Krabi for a vacation. Krabi is a well-known destination between Trang and the province of Phang Nga.
Let's look at some differences between Trang and Krabi and you can decide which one is better for you as a vacation destination based on the criteria that are important to you.
Criteria to Compare Krabi and Trang on?
We'll look at the beaches, islands, outdoor things to do, nightlife, restaurants, transportation options, and traffic to compare the two southern Thailand provinces to each other.
Krabi Beaches vs Trang Beaches
Basically the same, but Trang probably has better beaches on the mainland. There are some really nice public spots and resort areas on the beach where you can go and sit on chairs at a restaurant under towering fir trees and eat snacks, a meal, or just have a beverage. The place is stunningly beautiful.
In Krabi we don't have anywhere like that on the mainland along the coast. We have just a couple of decent beaches like Ao Nang, Noppharat Thara, and Tub Kaak beaches but to be honest, the beaches in Trang are nicer, cleaner, and the water seems cleaner and clearer too.
So, for mainland beaches, Trang is the definite winner.
If you want to go down for a day and enjoy time spent at the beach in a very peaceful and relaxing atmosphere, TRANG is the place to be.
Krabi vs Trang Islands
Well, here is where Krabi takes the win, easily. Krabi has some amazing islands. Many people think there is a Krabi Island. No. Krabi is on the mainland and is surrounded by many islands.
There are some incredibly picturesque islands around Krabi like Koh Jum, Koh Sriboya, Koh Phi Phi Islands, Koh Yao Yai and Koh Yao Noi. and Koh Lanta. Those are the major islands, but there are many small ones like Chicken Island and others right off Ao Nang Beach and an easy longtail boat ride.
Trang has a nice 4-island boat tour with snorkeling that is fun, but to be honest, it's nothing like the islands in Krabi.
Krabi's Islands are much better, there are more of them, and they are far bigger than Trang's islands.
Krabi vs Trang for Outdoor Things To Do
Here again, Krabi is ahead by far. In Krabi, you can climb the highest mountain in the area at Khao Phanom. It's 1,492 meters high. That's 4,895 feet high – and almost a vertical mile.
Krabi has Dragon Crest Mountain to climb, a 3.7 km walk up to a stunning 360° viewpoint. You can camp up there overnight if you want. There are 4 major viewpoints on that climb and it's one of the best things for active people to do while visiting Thailand.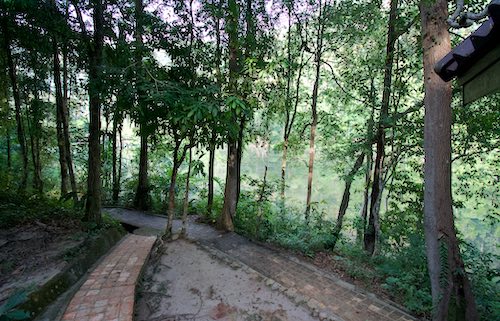 Krabi has Huay Toh Waterfall, some Hot Springs, a Hot Stream, and various cold springs where you can Kayak.
Krabi has a huge park, Thara Park, where you can run, walk, ride a bike, play basketball, tennis, or volleyball. They have an extensive line of exercise equipment anyone can use. They have a large kids' playground where we often take our kids.
Trang is a Thai city that has very few tourists. They have some waterfalls and a rainforest you can trek through. They have a city park like every other province, but it's nothing like Krabi's park
There are many hikes you can do in Krabi and lots of places to enjoy nature like at Phanom Bencha Mountain Resort. They have wilderness bungalows and offer night tours for finding wild animals, insects, birds, and owls.
Krabi easily wins this section.
Which One Has Better Nightlife?
Trang has local nightlife, small clubs, and local Thai music and patrons.
Krabi has many clubs and bars, most of them catering to tourists in some way. Krabi has huge Thai clubs as well that get crazy on the weekends and even on some weeknights.
If you're looking for nightlife, Krabi is the spot for you.
It doesn't even come close to the nightlife of Phuket, or Ko Samui, but just comparing it to Trang, there is no contest!
Which Has Better Restaurants?
Both Krabi and Trang have delicious Thai food restaurants and you can't go wrong with either place. The difference is, Krabi has so many more Western restaurants that offer you a choice of food to eat. Trang has Chinese, Thai, Southern Thai (Muslim curries), KFC, Swenson's Ice Cream, Pizza Co., etc.
Krabi has all of that and more like many real Italian-owned pizzerias and restaurants. There are bistros, Indian food, Japanese and Korean restaurants, sandwich places, vegetarian restaurants catering to foreigners, and so much more.
Krabi is the far better choice for variety and quality of restaurants especially focused on Western food.
Is Transportation in Trang or Krabi Better?
The options available in Trang are a small airport, taxis, tuk-tuks, motorbike taxis, and a small train station outside the city. The airport flights are very limited because Trang is a small city and there are few tourists.
Krabi has all of that, except the train station. Krabi has an international aiport (KBV) and many flights each day arriving and departing to Bangkok and some international destinations. Krabi even has direct flights to Chiang Mai within the country.
Krabi wins for transportation just because they have a large airport.
Traffic Issues?
When comparing Trang and Krabi on traffic problems, there really is no comparison. Trang has almost zero traffic compared to Krabi. There are always vans driving fast and badly from the Krabi Airport to the beach and other resort areas and traffic during rush hours in the morning and evening can be bad.
Krabi is also a small town, but the number of tourists here can really make traffic much worse than in Trang.
Trang easily wins the best traffic situation!
So, which will you choose… Krabi or Trang?
If you are bringing your family, definitely choose Krabi. If you are coming with a significant other, go to Trang for a day, and then come back to Krabi for a week or more. If you are coming solo, come to Krabi and don't bother with Trang. Same if you are coming with a bunch of friends, you'll probably have a much better time on vacation in Krabi than in Trang.
We hope that helps you decide between two of the most beautiful places in Thailand… Trang and Krabi!
Overview of Trang
Trang is a small city located in southern Thailand, known for its beautiful natural scenery, rich cultural heritage, and laid-back lifestyle. The city is situated in a valley surrounded by mountains and is home to numerous waterfalls, hot springs, and caves.
Trang is also famous for its stunning beaches, including the popular Hat Chao Mai National Park, which features pristine white sand beaches and crystal-clear waters. The city is also a popular destination for scuba diving and snorkeling, with numerous coral reefs and marine life to explore.
In terms of culture, Trang is home to a large population of ethnic Chinese, and many of the city's historic landmarks reflect this heritage. The city is also known for its delicious cuisine, including fresh seafood and traditional Thai dishes.
Trang is a peaceful and picturesque destination that offers a perfect balance of natural beauty and cultural experiences. It is a great place to unwind, relax, and immerse yourself in Thai culture.
Overview of Krabi
Krabi is a province in southern Thailand that is known for its stunning natural beauty, with towering limestone cliffs, white sandy beaches, and turquoise waters. It's a popular destination for both domestic and international tourists, offering a wide range of activities, including rock climbing, scuba diving, snorkeling, island hopping, and exploring national parks.
One of the most famous attractions in Krabi is Railay Beach, which is only accessible by boat and is known for its dramatic limestone cliffs and clear waters. Other popular beaches in the area include Ao Nang Beach and Klong Muang Beach.
Krabi Town, the provincial capital, is a bustling town with a lively night market, traditional Thai temples, and a variety of restaurants serving local cuisine. The town also offers easy access to nearby attractions such as the Tiger Cave Temple, featuring a 1,256-step staircase leading to a panoramic view of the surrounding mountainous and ocean areas.
Krabi is a beautiful and diverse destination that offers something for everyone, whether you're seeking adventure, relaxation, or cultural experiences.
How To Travel from Krabi to Trang and vice-versa? >