A lot of people when they come to Krabi don't really realize that there is a city Park close to the river just outside of the city center.
This Krabi Town park has many exercises and other things to do for people of all ages. You can find a running track, volleyball court, tennis courts, basketball courts, skateboard court, exercise machines, a small beach, and a sidewalk that goes along the Krabi River for a few kilometers.
Cost? No charge for anything at the park.
Playground for Kids!
There's a pretty big playground area for little kids (under 10?) near the parking area at the front of the park. There are many slides, and things to climb on in addition to swings and see-saws. The area is filled with sand which sometimes has colonies of red ants.
Do be careful to check your child often if they're playing here. The bites hurt, but the real problem is they stay itchy for days.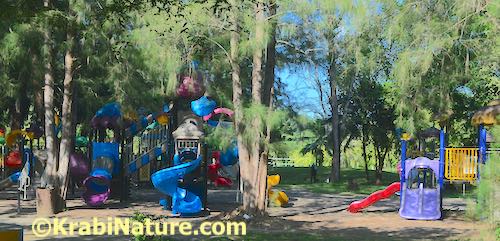 Caution! You may also want to check out the equipment your child is playing on before allowing them to do so. There is sometimes broken plastic or rusted or sharp parts that can hurt kids. The park isn't all that well maintained, but it's better than it used to be!
Thara Park Running Track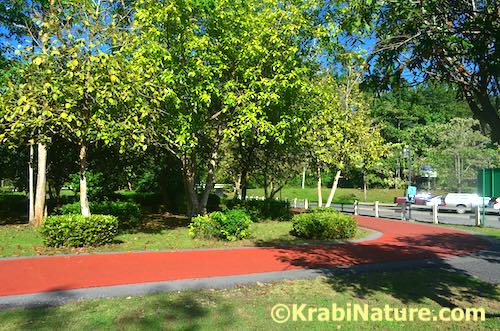 The running track is now made of a foam or sponge running surface that many people prefer. It is much softer than concrete. It does take some getting used to.
The entire trail goes for 1.15 km. The foam covers around .8 km.
Every morning and evening after 5 PM there are many people walking and jogging around the running track at the park. There are not supposed to be bicycles or skateboards or rollerblades on the section but occasionally some kids will use them.
The park is safe from about 8 AM until around seven or 8 PM. After that I wouldn't go out as a single woman because there are some remote places at the park.
Tennis Courts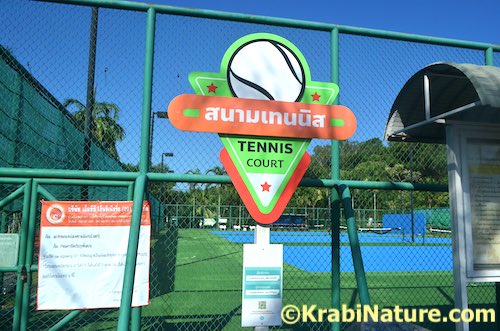 There are three tennis courts being rebuilt and they should be in good condition in just a few days. The key to these courts is held by a time in who opens them around 4:30 to 5 PM. I am not sure about reservations but it's possible that you may need to register for the time you want to play.
Skateboard Park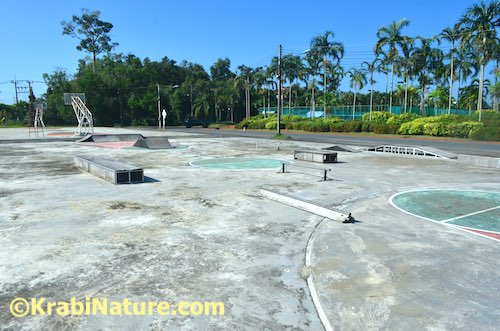 Between the small fusbal court (small football) and the basketball courts is this space for skateboarders to practice tricks. There are a number of ramps and other platforms to use. There is rarely anyone here, so feel free to come anytime and enjoy it by yourself!
Volleyball Court
There is one volleyball court on the hard concrete near the front of the park by the parking area. This is used by about 20 Thais who play there daily starting around 5 pm. They seem to have stopped temporarily, so you might get some time on the court if you want to try it.
It appears like there is a new sand volleyball court area going up near the exercise machines and the oval running track. It looks like a minimum of 2 volleyball courts will be created.
Football?
There is a full-size or nearly full-size football (soccer) field within the space of the oval running track. Games usually start around 5 PM or so and consists of shirts and skins (shirts and no shirts). There is a regular group, but some foreigners play and they're usually eager to have foreigners play.
Exercise Machines?
There are more than a dozen different exercise machines you can use anytime you want for free. Some are for legs, some for balance, and some for arms. There are 3 parallel bars too.
Fishing in the Krabi River
You can bring a fishing rod and fish along the Krabi River from Thara Park if you're keen. The only place along the river where fishing is prohibited is near the marina, and that area has a couple of signs posted.
There is a walkway along the river that goes for a few kilometers, so walk up the river and fish the whole thing if you feel like it!
Are there Refreshments at the Park?
Yes, sure! There is one refreshment stand that is almost always open unless the woman is sick and doesn't come in. That is located next to the child's playground area. There is another one over by the river next to the exercise machines and oval running track.
Both snack shops have many kids of cold drinks, water, soda, juice, and iced-tea. They have a variety of ice-cream, chips, cookies, chocolates, and other Thai snacks. Oh, they have Mama's soup if you want some Tom Yum flavored soup to tide you over until you can go get a proper dinner.
Swimming?
No. There is no swimming in Thara Park, and it isn't advised to swim in the Krabi River here because they do Loy Krathong celebrations here and there are thousands of needles (straight pins) used to create the floating krathongs. It's a bit dangerous. The water isn't that clean either.
There are some swimming pools in Krabi you can find here.
Where Is Thara Park Located?
If you are in Krabi Town just go to the river and walk to the right (south), you'll eventually walk right into Thara Park. It is down past the Krabi police box and past the small night market along the river near Easy Cafe.
Check out this map from Google to find the park and parking areas around it. Or just go HERE.
Krabi Attractions and Things To Do >