Krabi is a tropical paradise that is great for running adventures and exercising in many different places. We'll cover the Best 5 Places to Run in Krabi.
Where Can You Run in Krabi?
You can run at and around Ao Nang Beach or in Town or nearby and at any of the islands, of course. The following are some places near Ao Nang and Krabi Town that we like to run.
You can choose whether to run on the sidewalk along the beach and beside the busy road or running on the sand at Ao Nang Beach. Some people don't mind to run with that many people walking around. Some get a thrill out of it.
Distance: Ao Nang Beach is 1.4 km long and you can run a short bit on the sidewalk to reach long beach and Noppharat Thara Beaches which add another 2.2 km to your run.
Running Conditions: Quite nice. The sand is quite loose near the top of the beach near the road and harder packed closer to the water. Up to you! Dogs don't usually chase anyone jogging on the sand, but you can run on the sidewalk if you'd rather be safer.
Restrooms: There is a public restroom in the center of the Ao Nang shops on the main beach road and there are more as you go down the beach toward Noppharat Thara Beach which also has public restrooms.
Krabi Town Water Reservoirs
There is a 'waterworks' or water reservoir in Krabi Town close to downtown and the caveman traffic lights you can go to run or ride your bike for exercise if you want to be almost alone doing it.
Distance: One lap around is about 1 km. You should leave the pond near the row of houses out of your loop unless you want to deal with dogs. It's better to skip that part. You'll get the 1 km. I left it out when I measured the distance with my motorbike.
Running Conditions: Hard concrete, counterclockwise loop. Dogs sometimes.
There were some dogs at the main office here too, and I'll need to go check and see what the current situation is with dogs there. In the past they were fine with people playing foosball (fusball) in a small concrete area, but not ok with runners and cyclists.
If there are dogs here, just throw some rocks and grab a stick and they'll leave you alone. It isn't the best way to run with the threat of a dog running out at you, but really, they all turn around at the sight of a stick.
Restrooms: There are no restroom facilities here, you can use the bushes.
The freshwater stream next to the trail in the early part of the hike is refreshing to sit in and cool off when you're finished climbing!
This one is our favorite as you may have figured out from our lengthy posts about this trail. This is an out and back trail run up a small mountain to a peak with wonderful views. It is a bit treacherous with hundreds of roots, rocks, slippery sand, and other obstacles like fallen trees to get over or around.
We have a Huge Guide on this running (hiking) trail you can find HERE.
Distance: 3.7 km to the top of the peak, 3.7 km down the same trail to the bottom.
Running Conditions: In the morning before 9 am. the temperature can be under 28°C. After noon, the temperature is almost always over 30°C, and usually more like 32C for most of the year. Humidity is always high in the jungle and you are covered by the tree shade during 90% of this trail run. The park closes to runners starting the trail by 2 pm. so go early.
Restrooms: There is a restroom at the trail head but none on the trail. Use the bushes.
Average Time to Complete: If you are very fit you can do the up and down in 2 hours. If you are moderately fit, count on 3 hours. If you are just fit, figure on 4 hours.
Suan Phrueksa Sawan Nature Area (Urban Forest)
This is a road in Krabi Town (Talad Gaew area) that climbs a 3.7 km long hill up to the top. Final elevation is 240 m vertical. At the top of the road is a stair climbing section that is around 300 steps long. Top of there is 270 m. At the very top is a viewpoint where you can see some of Krabi Town and some of the surrounding limestone mountains.
Distance: 3.7 km to the top of the peak, 3.7 km down the same road to the bottom.
Running Conditions: Concrete road that can become VERY slippery when the black and green moss grows after days of rain. At the moment it's treacherous, but you can still go there and walk in the center of the road where it isn't slippery.
During rainy season, the road here is bad and you never know exactly where it will be slippery on the sides of the road, so always stay in the center. The black moss is more slippery than the green.
Park your motorbike or car at the bottom and go from there, don't attempt to drive up unless you're very good at handling a motorbike. Leave cars at the bottom.
I've seen cars, motorbikes, and cyclists crash on this hill in slippery spots. Please take it seriously. In the dry season the road is fine and not slippery over most sections.
Remember, the green or black mold spots can be slippery like ice. Park at the bottom and walk or try to run up this nature-filled road.
Restrooms: None
DOGS are located at the top of the first hill. During daylight hours there is no problem, they are calm. At night they will bark and sometimes chase you to bite. Be careful. Don't walk past them after dark if you can help it. You can bring a stick to swing and some rocks to throw and they'll probably stay in the grass area away from the road. I do that and so far, so good.
How to Find it?
This hill is located behind the Krabi sports school on the way out to Big C and Lotus's. You're best off to find it on the Google Maps here and get directions from where you are.
Park at the bottom, as I said, the road can be very slippery and you may slip off the edge. Guardrail was NOT put together well on this hill.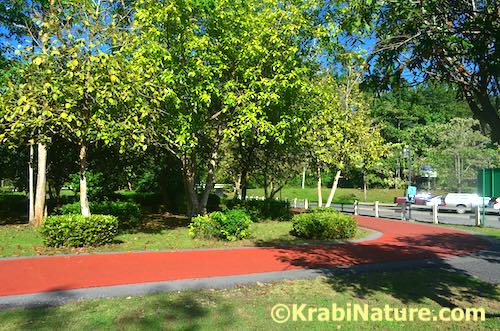 Thara Park is a large park down near the Krabi river in Krabi town. There is a paved path that goes around the park that is about 1.15 km long.
Distance: 1.15 km around the big loop encircling the park. There is also a 1/4 mile running track by the river and football (soccer) fields you can run laps around.
Running Conditions: Quite good. Even in thunderstorms you have some buildings to hide under until the storm has passed. Don't run in lightning, but if raining with no lightning – no worries. This is one of the best times to run, isn't it?
Restrooms: Yes, there is at least one that is open during regular daylight hours.
There are many other things to do at the park as far as exercise and I encourage you to check out THIS PAGE to see our complete guide on Thara Park. Here is more info on running at Thara Park.
Running in the Weather Conditions in Krabi
Before you decide to go running in Kirby please consider the weather may be quite different from what you are used to. The environmental conditions like heat glaring sun humidity and lack of wind may greatly diminish your ability to run distances and could even put a damper on your excitement for the adventure.
Normal temperatures in Winter are from 28 to 32°C. Humidity is almost always high but you may find a day or two during your vacation in winter where the humidity drops and the air is much drier than usual. More info on Krabi Weather in December >
Go running then! We don't have many of those low-humidity days in Krabi.
All Krabi Attactions and Things To Do >