Known locally by English speakers as Emerald Pool, Crystal Pool or Sra Morakot (สระมรกต) by Thais' and also "Thung Teao Forest Natural Park", this amazing little freshwater emerald colored pool is fed by an underground spring.

One of the TOP ATTRACTIONS in KRABI.
[Page Updated: 25 September 2023]
Emerald Pool is not warm or hot water like some of the hot springs nearby, it is cool and refreshing. One of the nicest little spots to go if you can hike the 800 meters (800 yards) on a hard-packed clay road required to get there. Thais' call it Sra Morakot – like "Emerald Pool."
Some also call it Crystal Pond, or Crystal Pool. It is located about 60 kilometers (36 miles) outside of Krabi Town and adds another 15 km from the beaches if you're staying there.
Thais call it Sra Morakot – like "Emerald Pool." Some also call it Crystal Pond, or Crystal Pool. It is located about 60 kilometers (36 miles) outside of Krabi Town and adds another 15 km from the beaches if you're staying there.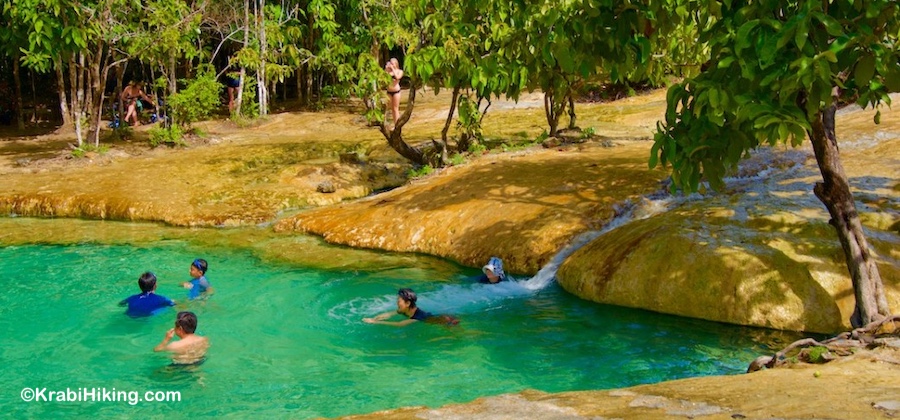 In Thai – สระมรกต. And the address in Thai is: ตำบล คลองท่อมเหนือ อำเภอ คลองท่อม กระบี่ 81120.
It can be ridden to on a motorbike like I did this morning to get these photos, but an air-conditioned van tour would be much easier and more comfortable if you're not used to riding scooters/motorbikes.
Sra Morakot (สระมรกต) also known as – Emerald Pool Krabi, Emerald Pond, Crystal Pool, and Crystal Lagoon
If you rent a motorbike in Krabi and want to know what you can do for a short half-day trip Crystal Pond (Morakot) is an ideal place to see. It's a pond created from the runoff of a natural spring water stream coming down over the limestone.
It's rather easy to find if you keep to the main roads and don't follow any sign that says "short-cut" like we did the first time we tried to go! We were lost and didn't get to see the pond at all!
Emerald Pool Entrance Fees
There is a 200 Thai Baht charge for adult tourists, 100 THB for children, and a nominal fee for any Thai guest you might be bringing along to the Emerald Pool – 20 baht. Don't get upset if you don't see them charging ANY of the Thai people except the ones that the farangs (foreigners) are with because that is just business as usual.
At Huay Toh waterfall in Krabi one time this really got to me as my girlfriend and myself were the ONLY two people to pay out of approximately 50 Thai people we saw walk by the gate without paying. 'Mai pen rai' is your best attitude because though it's infuriating, it's just the way it is here.
A tour is about 1,100 THB from Krabi Town, and includes a stop at the Hot Spring too! One cool thing is that if you buy a National Park admission for the Emerald Pool, you will also get admission to the Hot Springs for just 100 THB (a good discount). The tour stops at both places.
National Park Fee: 200 THB for tourists at Crystal Pool and 200 THB for tourists at Hot Spring. Our daughter is 3.5 years old and she gets in for free.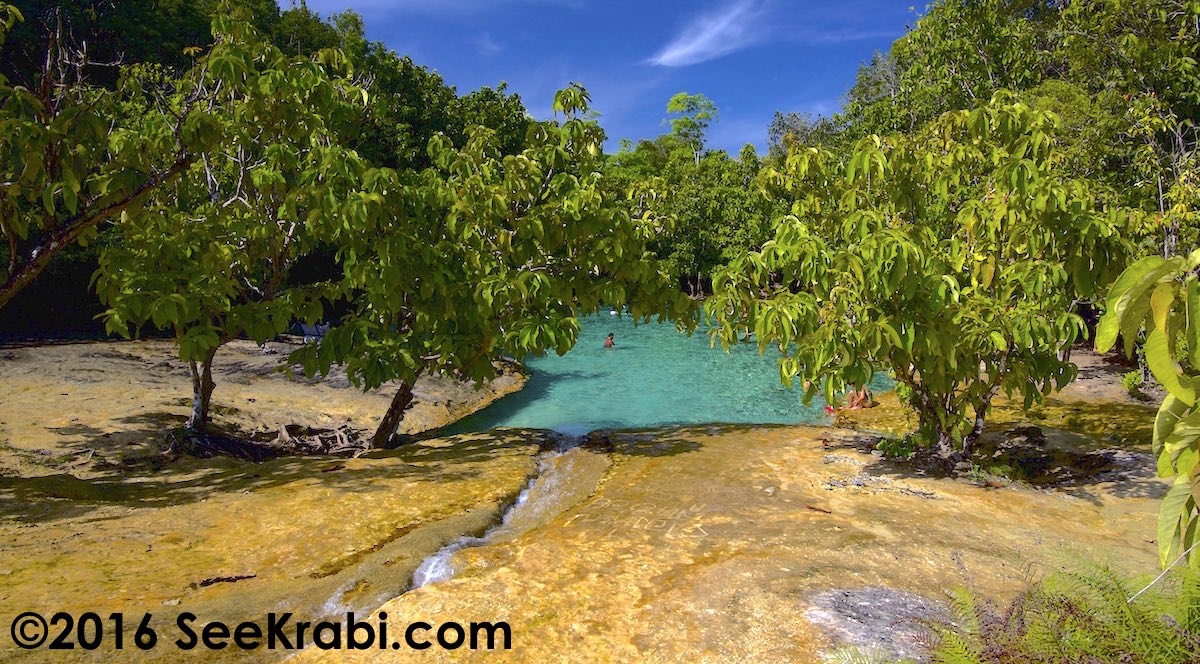 So, pay your fee and take a walk through the woods. You can choose a 1.4km walk on the wooden boardwalk up over the marsh and it's a nice nature walk, not far at all. Or, if you just want to get there quickly, follow the dirt road up – it is only about 800 meters (about 1/2 mile).
For Emerald Pool Tour Info in Krabi – Click HERE.
The Emerald Pool is gorgeous, with very clear water and there will be a hundred people or more swimming if it's the weekend (kids mostly). If you go in the morning on a weekday, you're better off numbers-wise as you'll have less than 10-20 people there.
There were about 10 people for us until the afternoon when the school must have let out early and busloads of crazy Thai kids came! It was fun watching them have fun – but for us, the fun of swimming in a relaxing pool and putting our heads under the stream was over.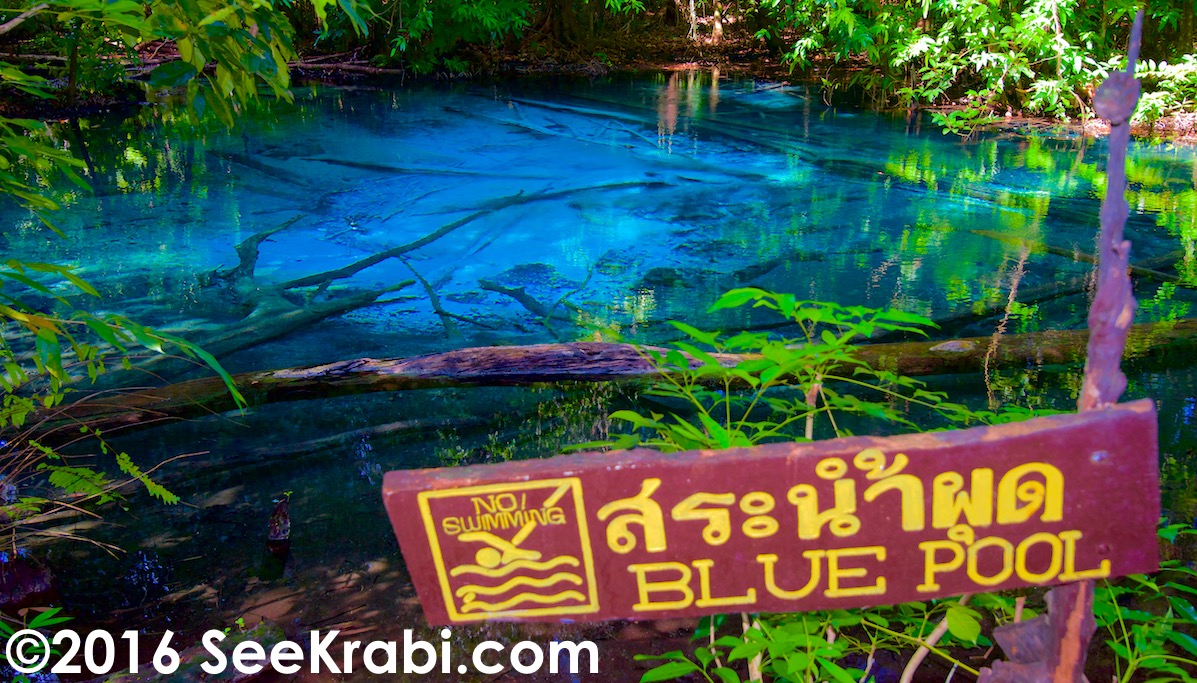 Emerald Pool and Blue Pool are two really cool places and worth the drive and even the 200 baht National Park entrance fee. There are a couple of smaller pools you can enjoy there, but the main attraction is the Crystal Pond or Crystal Lagoon that you see pictured here.
EMERALD POOL IS EXCELLENT FOR KIDS!

Do be careful of slippery edges!
Sra Gaew Pool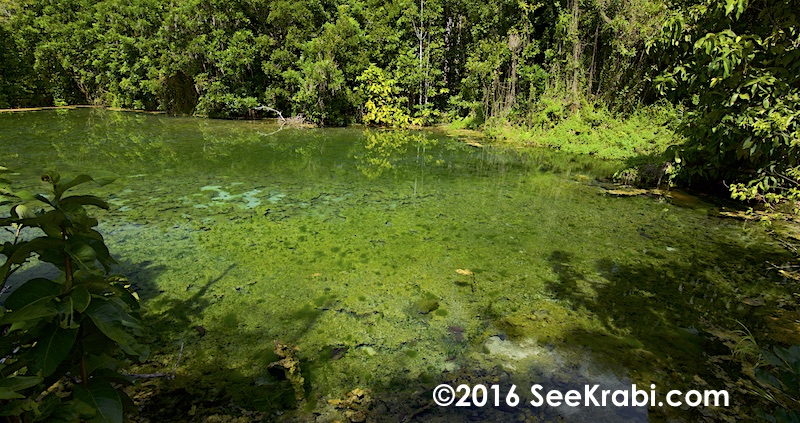 Above is another pool of water, not for swimming, just looking and photos – but it can be quite beautiful at the right time of day. There are many kinds of fish under the surface. See how many different kinds you can spot once you arrive!
Bring with You to Emerald Pool in Krabi:
Swimsuit – bikini or briefs OK
Mosquito lotion (deet 28+ works best in Thailand)
Cold bottled water for the hike – no cans.
Camera and Video Camera
Sandals (sport sandals are best) so you can explore
Note – no food or cans are allowed. Still, we always bring water. There are refreshments available at the end of the trail near the pond. Fresh juice, ice cream, and coconut juice in the coconut. There is also a full complement of restaurants serving Thai and seafood.
Emerald Pool Travel Tips
Go in the morning before the kids get out of school – it gets really crowded then. It's actually crowded from 10 am. onward. Get there earlier if possible.
Though it's crowded – make the best of it!
Wear sports sandals or running shoes to get out there, it's about 1 km on the dirt road.
Don't bring food with you – they won't allow it
Best Time to Go to this Krabi Attraction?
Best to go at 8-9 am. Go before 2-3 p.m. because children get out of school and sometimes there are 100+ kids here – they love it too!
Emerald Pool Krabi Cautions?
Best to wear some comfortable walking shoes because the Emerald Pool is 800 meters from the parking area. The walk is nice – under trees for the most part, and the path is a large, dirt path that's quite safe. You could even get a stroller up to the pond if you wanted to.
There is another option, there is a concrete raised walkway that goes through the forest. It is safe and quite beautiful as much of it goes along the freshwater stream. Highly recommended.
The areas around the pool are EXTREMELY SLIPPERY. Be very careful – we have seen many people FALL while trying to get in or out of the pool. There is no ladder!
How to Have the Best Experience?
Explore the entire area. There is a 1.4 km walk that goes over the wooden boardwalk and dirt paths through the woods that leads to amazing pools of freshwater spring that most tourists won't see because they'll take the short 800 m walk on the wide dirt road.
On the boardwalk are lots of amazing scenes including the amazing "Sra Gaew Pool." Also, once you arrive at the Emerald Pond you'll want to continue up the hill from it and find the boardwalk on your left side. Keep walking another 400 m and you'll find "Blue Pool!" Quite nice colors!
Directions to Emerald Pool
This is 55 km from Krabi Town and 75 km from Ao Nang. You really should book a tour with "Son" below. The road is busy, and we've actually had an accident on a motorbike one time coming back from there.
Best way to get to Emerald Pool?
If you're good on a motorcycle, just rent an Aerox 155 or Mio 125 motorbike (scooter) and go yourself. It's about a 55 km drive to get there. The roads are fairly good but there is gravel on the side, and the usual cautions about driving on Thailand's roads apply.
The last 15 km is through rural Krabi's Klong Thom district with very little traffic. Quite a nice little drive. Plan on it taking you 1.25 hours to get there, or if you drive slowly and safely around 1.5 hours.
If you are going to drive yourself here are the directions. Starting from Highway 4 you will go through the Talod Gaew intersection traveling toward Trang. You will go about 30 km on Highway 4, passing Nua Klong and then once you are in Klong Thom you will make a left-hand turn at the sign for the Crystal Pool – it may say "Sra Morakot Krabi" or "Emerald Pool Krabi" or "Emerald Pond Krabi".
This attraction is called all of these things. You continue for 9 km at which point you will make a right-hand turn at the sign for the pool. You will continue about another 7 km when you will see another sign for Sra Morakot and flags indicating the Thailand National Park.
Or, just SIGN UP HERE with our English speaking guide and you'll get an Air Conditioned Van for a very reasonable fee >
Accommodations at Emerald Pool?
There are some very basic rooms available on-site where you can stay overnight. Unless you're planning on walking the park at night with a guide to see animals, I wouldn't think you'd stay overnight. This place is out in the wilderness and there is literally nothing to do except visit the pond.
For Tours Info around Krabi Town and Beaches – Click HERE.
Don't miss the 15-minute video we've made about Sra Morakot – just scroll down to the bottom of the page to see it.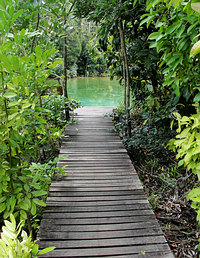 For Tours Info around Krabi Town and Beaches – Click HERE.
Krabi Hot Springs (near Emerald Pool, can visit both the same day)
All Krabi Attractions (Things to Do) >
Important Phone numbers for your stay in Krabi (Railay and all over Krabi province):
Dial 1669 for an emergency. They have English speakers too.
TAT (Tourism Authority of Thailand) Regional Office: 07.562.2164
Krabi Tourist Police: 07.563.7208
Marine Police: 07.561.2756 and 2757
Krabi Airport 7 km east of Krabi Town: 07.563.6541 and 6549
Immigration: 07.561.1097
Krabi Bus Terminal in Krabi Town: 07.561.1804 and 1184
Thai Airways International: 07.562.2439 and 2441 and 2442
Krabi Town Hospital: 07.563.1768 and 1769
Copyright ©KrabiNature.com.