Many people confuse the Krabi Hot Springs with Emerald Pool. They are not the same thing, and they are not found in the same place. The Krabi Hot Spring is a stream of hot water always running that is fed by a natural spring water reservoir under the earth's surface.
There are 3 Natural Hot Springs in Khlong Thom, Krabi, they are: Krabi Hot Springs, Saline Water Pools, and Emerald Pool (Crystal Pool). We'll cover the essentials for each below!
Krabi Hot Springs
Open Hours: 8:30 am. to 6 pm. Daily.
Entrance Fee: 200 THB for adult foreigners and 100 THB for children.
Water Depth: 1 meter (3 feet) on average.
Restrooms/Showers? Yes, both.
Wheelchair Accessible? You could push a wheelchair to the hot springs, but once there it will be difficult for someone with restricted ambulation to reach the hot springs.
After a bit of a drive to reach them, the hot springs require a 400 meter long hike to reach them. You'll pass large still pools of water that are also hot, and actually even hotter than the flowing stream springs.
Once you arrive at the main springs location you'll see a muddy stream that is also hot and that you can swim in and take a rope swing out to jump in the water. The stream isn't that warm, but further up at the waterfall is a series of about 10 very small pools of water. These are crystal clear and the place everyone want's their photos taken at.
The water is warmed up to a nice 40-43°C (104-109°F) temperature which is like a heated Jacuzzi in the middle of the jungle!
There are always a lot of people at the hot springs in this very picturesque spot. Go early and arrive at 8 am. to see if you can get in earlier than the rest of the crowd that arrives around 9 am. You'll get better photos!
Caution is advised, the springs are slippery in some places. The heat of the water has the ability to raise your body temperature quite a bit. Don't spend more than 10-20 minutes in the hot water or you may faint or have some other medical emergency.
Location
Location on Google Maps: Krabi Hot Springs
GPS: 7.9054058333156165, 99.10834555742554
Saline Hot Springs Park
Open Hours: 5 am. to 8 pm.
Entrance Fee: 200 THB for adults, 100 THB for children.
Water Depth: 1 meter (3 feet average)
Restrooms/Showers? Yes, both.
Wheelchair Accessible? Yes, you can push a wheelchair close to the hot springs and transfer someone into the springs.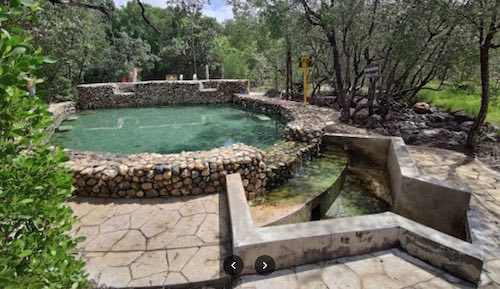 The Saline (saltwater) Hot Springs Park hot water pools are about 11 km (7 miles) west of the Krabi Hot Springs with small pools of crystal clear water and they are also heated by underground thermals. These are a series of 8 man-made pools to contain the hot spring water that is bubbling up from underground. It's clean and the water is the same as it is at the Krabi Hot Springs. We take grandma here often to relieve her back pain.
Location
Location on Google Maps: Saline Hot Springs Park
GPS: 7.931711622588446, 99.20583189525318 Please note, the GPS coordinates are for the actual stream, not the parking area which is 400 m to the north.
Open Hours: 8:30 to 6 pm.
Entrance Fee: 200 THB for foreign adults. 100 for foreign children.
Restrooms/Showers? Yes, both.
Wheelchair Accessible? No, but they do offer rides up the path for elderly if they request it.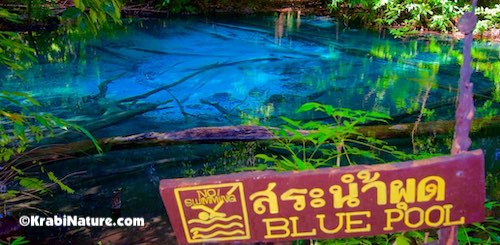 Emerald Pool and the nearby Blue Pool are stunning to see, and they are fed by underground freshwater springs, but these springs are not hot. At least the water in these pools is not hot. It is what you would expect a swimming pool water to be, around 27-30°C and not like the true hot springs above.
As you walk just over 1 km. to reach the Emerald Pool from the parking lot you'll see lots of little streams and pools of water. None of these are thermally heated by hot vents, so they are not hot to touch.
There is a beautiful stream as you enter the park after paying 200 THB admission for foreigners. Remember, if you have your ticket from the other Krabi Hot Spring, you can use it to get into Emerald Pool for free.
Location
Location on Google Maps: Emerald Pool
GPS: 7.925129449853515, 99.2682457454749 Please note, this is the location of the Emerald Pool of water, not the entrance to the park.
Visit Both the Krabi Hot Springs and Emerald Pool at Same Time
The cool thing about visiting the hot spring is that you can also visit Emerald Pool at the same time because they are not too far from each other. You'll actually pass the Krabi Hot Spring on the way as you drive toward Emerald Pool!
The other cool thing is that since they are both Thailand National Parks, you'll get into both parks by paying just 1 time! The price is 200 Thai Baht for foreign adults and 80 THB for kids. Thais pay 20 THB for adults and 10 THB for kids. It has been our experience that most Thais don't pay at all, they just walk in. You can get into Emerald Pool with your ticket, so SAVE IT!