[Page updated: 12 August 2023]
Noppharat Thara Beach is just next to the famous Krabi beach – Ao Nang Beach in Krabi province.
Why Go to Noppharat Thara Beach?
The beaches at Ao Nang are not really anything special, but everyone goes anyway and uses Ao Nang as a jumping-off point to go see some really amazing places. The closest nice beach you can visit from Ao Nang is just up the road at Noppharat Thara Beach.
This is a generally clean beach (locals clean it) – and it has some nice water, relatively free of rocks and coral – and easy waves for kids to play in. There are also many tall pine trees (ironwood) trees to sit under for a picnic or to hang a hammock and fall asleep under.
Stay at a hotel or resort in Ao Nang and then go see: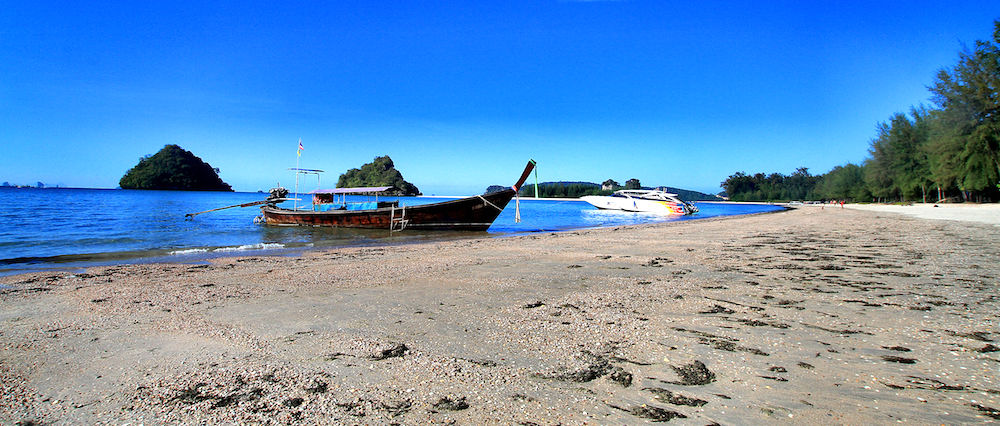 Noppharat Thara Beach Location in Krabi: On the Andaman Ocean just up the road (northwest) from Ao Nang Beach. South of Thalen Bay and Nong Talay. About 14 kilometers from Krabi Town.
Direction Facing: Southwest
Beach Length: 2.37 kilometers (1.47 miles)
Beach Width: 35 meters on average! (115 feet)
Estimated Beach Area Meters2: 82,950
Beach Quality: Sand is better than Ao Nang, but still not so ideal. Large grains, some hidden bottle caps, and glass. Sharp shells. Nice trees for shade! Great food in the parking lot area – street stalls and a couple of convenience stores for cold drinks and ice cream.
Ocean Bottom: Soft, sanding bottom with large rocks partially submerged.
Surrounding Beaches: Ao Phra Nang Beach
Restroom / shower facilities? Yes, both are available, though dirty and dangerous – sharp tile broken, doors broken, smells… typical Thailand beach facilities!
Beach Features: Soft, deep, clean sand. Wide beach for laying down. Excellent calm water for swimming. Crystal clear water. Limestone karst formations in the water. Islands in view.
Public or Private? Entrance fees? Public, no fees.
Boat anchorage possible? Short-term is possible
Boat dock and marina? Yes, large dock but not sure if private boats can dock there.
Attractions: Ao Nang Beach is just 2 km. down the road. Ngorn Nak Mountain (jungle hiking) is about 12 km toward Thalen Bay.
Activities: Walking out to the islands at low tide is fun. Good place for flying a kite. Can bring a paddleboard or windsurf board. There is a windsurfing place on Ao Nang Beach where you can get lessons.
Surfing? Not so good, but occasionally the waves are big enough and junk – but you can ride a bodyboard there for fun until you get tired of the chop.
Warnings: Rip tides are dangerous here, and at all west-facing Thailand beaches when the waves are big.