Most ex-pats in the south of Thailand are living on the island of Phuket, so they shoot right up to Ranong, Myanmar (Burma) for their visa runs. There are many services that offer the runs. Many expats living in Krabi, Phang Nga, and Surat, also hit the Ranong border for their visa stamps.
This is the second time I've been to Satun's Wang Prachan for mine – and it's quite an easy experience. I debated whether to take the motorbike, but, since I couldn't rent one on my wife's passport, instead I just drove the car.
It's a little bit stressful drive – considering you'll travel about 600 km in 8 hours, and there are numerous idiots driving cars in Thailand – maybe I was one of them? Eventually, you get there and get it all worked out.
From Krabi, you head south toward Satun on Highway 4. Before you reach A. Muang, Satun, you make a left at Chalung and right at Khuan Don you'll see a couple of signs for the border – a right-hand turn. Take it. It's about 15 km from there.
After just a couple hundred yards after making the turn, there is a big soup sign on the left. I ate noodles with beef there – amazing and cheap (35 THB). They re-finished this road, and are nearly finished, so it's quite a bit nicer than the mud it was last time I went to Satun for my Thai visa run (6 months ago).
Here's the Google Maps directions to Satun from Krabi: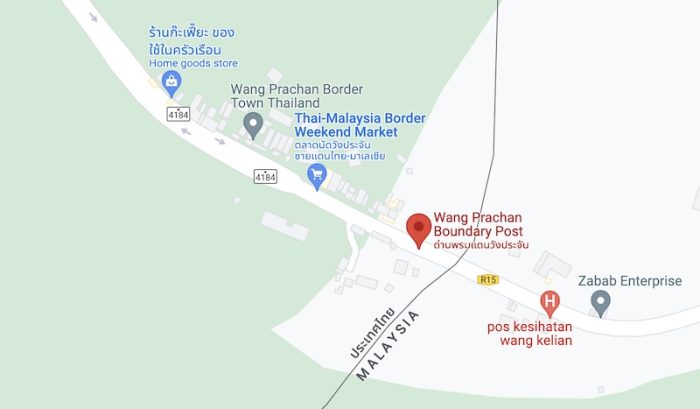 As I said, it's possible to take a motorbike from Krabi to Satun and make it just fine. I did the roundtrip in 2 days last time on a Suzuki Raider 150cc motorbike. The car was easier in some respects, but the motorbike was probably faster. In a car, you cannot easily pass all the time to get around slow-pokes. I went on a Tuesday and the traffic was negligible in most places before 3 pm.
If anybody knows of a visa service for this Krabi – Satun border run, do let me know so I can post it here. I did see a van full of tourists getting their stamps here last time, but none this time.
June 2023 Wang Prachan Border Run Update
After hearing from many sources on Aseannow (formerly THaiVisa) that the border in Satun and Malaysia is no longer as easy as it once was, I almost went up to Burma instead. Fearing the high seas because this is the season for it, I wimped-out and drove down to Satun.
The drive is so much nicer, easy-going, stress-free most times. I left Krabi Sunday and drove to the Thaleban National Park to stay over for a night. It's 1 km from the border, so easy to go early.
I arrived around 8:20 am and they were open. There was only one foreign woman ahead of me and nobody else to be seen anywhere. I lucked out!
I was fully ready to pay the 1,300 THB I was told was the current bribe there. Malaysia recently implemented a mandatory overnight stay there for people trying to do a border run. That sucks because this border is in the middle of nowhere. You'd be staying in a tent in Malaysia if you had to go there for a night.
So, I figured, pay the 1,300 bribe and be in and out like the old days, just a little less money in the pocket.
I checked out of Thailand. I wasn't asked for money.
I went to the Malaysia inbound window. Gave my passport. They looked at the picture and said get Queue. I said what? He pointed to a pink number tag. Get queue, he repeated.
OK. I had heard there was a pink number that needed to be got, but I didn't get offered one on the Thai side. I went back and told the guy, I need the Pink Number.
He said, not need. I said, Malaysia immigration just said I need. He said not need because I have a Non-Immigrant O visa.
I said OK and walked back to Malaysia border. I said, I don't need one because I have non-immigrant O visa. He said, OH, you do? (He hadn't looked, just assumed I had a tourist exemption and was trying to get another 30 days at the border. Apparently they charge THEM the 1,300 THB.
So, if you have a non-immigrant O and are doing your visa run there, you shouldn't have to pay the fee.
Hopefully for you, anyway. The border situation is always changing, but this time it changed for me in a good way. Bring the cash anyway, who knows if you'll need it.