Songkran officially starts tomorrow across Thailand and so Krabi has been getting excited about it as well. Since COVID there has not been a no-holds-barred Songkran celebration and people are anxious to get this going. We were already hit with water in the car as there were some early morning partiers getting into the festivities at 6:45 am.
What Is Songkran?
Songkran is the Thai New Year's Celebration that happens every April. It involves throwing water at everyone and anyone that goes out of their home. You can see mayors, police officers, teachers, and people from every walk of life taking part in the activities – and yes, tourists too.
This year, unrelenting water-throwing will take place without restrictions and COVID-be-damned seems to be the policy.
Thai New Year is a special time for Thais to blow off steam and relax and reconnect with family and friends. Many Thais return home to Isaan for the celebration.
Why Throw Water During Songkran?
The tradition of throwing water on each other during Songkran has its roots in a Buddhist ritual where people would sprinkle water on each other and over Buddha images to symbolize the washing away of sins and bad luck, as well as to purify the mind and body.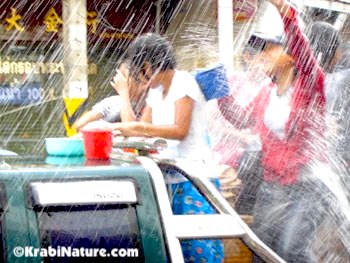 Over time, this ritual evolved into a more lively water fight and became a hallmark of the Songkran festival. Today, people celebrate Songkran by splashing water on each other with buckets, water guns, and hoses. Some also smear powder or paste on each other's faces to mark the occasion. Some people buy huge blocks of ice to add to their water to make it ice-cold and it's not uncommon to have someone throw 33°F ice water on you!
Apart from its symbolic meaning, the water-throwing festivities of Songkran also serve as a way for Thais to beat the heat during one of the hottest months of the year in Thailand. The cool water provides relief from the scorching temperatures and adds to the festive atmosphere of the occasion.
Lately, there have been rumblings about the excessive use of water during Songkran and its impact on the environment. As a result, the Thai government and various organizations have launched campaigns to promote a more sustainable and eco-friendly Songkran celebration.
This seems to have been ignored this year.
When is Songkran 2023 in Krabi?
This year, the dates will be April 13th through 15th from 10 am. to 8 pm. for all over Thailand. Sometimes certain areas like Khao San Road in Bangkok and the entire area of Chiang Mai extend their Songkran to be more than 3 days. Sometimes it goes for an entire week!
Where in Krabi Is the Biggest Party?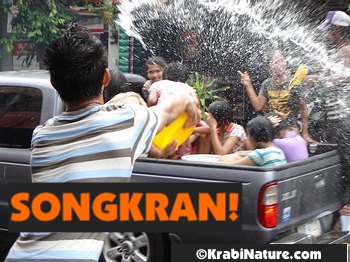 The biggest Songkran event is always at Ao Nang Beach. There is a huge circle of traffic that follows a one-way circle through Ao Nang and winds back around. The traffic this year goes from south to north along the beach in a clockwise direction.
Songkran Rituals
Songkran isn't only about throwing water on each other, it's also a time for family reunions, temple visits, and making merit. Many Thais also perform the "rod nam dum hua" ceremony, which involves pouring water over the hands of their elders to show respect and seek blessings. This is the one part of Songkran we do every year with our relatives.
So, join the Thai Songkran festivities! It's a joyous celebration of new beginnings, unity, and respect for traditions and elders. It's a time when people come together to reflect on the past and welcome a new year with renewed hope and positivity.
Even overseas at Buddhist temples in America, Canada, the United Kingdom, and Australia they celebrate the water-throwing tradition and some of the other cultural practices of Songkran.
Come to Ao Nang Beach in Krabi this year and take part in the Songkran Festival. You'll see something you never knew was possible!