How To Get Around Krabi Town and Ao Nang
General Transportation
If you're planning on staying in Krabi Town – then you'll probably be using either rental cars, songthaew trucks (pickup trucks with seats in back), motorbike taxis, tuk-tuks (in Ao Nang mostly), or getting a motorbike yourself at a rental shop.
Uber Taxi
Click here for information about Uber in Krabi.
Rental Cars and SUVs
Finding a rental car shouldn't be difficult. If you need one, check out our page and reserve one here.
SUVs are sometimes difficult to find. If you have a large group, you might hire a white van to drive you around Krabi and Ao Nang. Before you hire the driver, tell him that you want to be SAFE above all else. Tell him you don't want to race other white vans. Tell him to slow the hell down. The white vans in this area, and every tourist area, are a nightmare.
Motorbikes – Scooters
Motorcycle and Motor scooters (mopeds) are available from both Ao Nang Beach – all over, and in Krabi Town – mostly on Chao Fa Road. The price is an average of 200-250 per day. If you are renting for a week, you can get about 50 baht off per day.
If you rent for a month you can get a top-of-the-line Yamaha Nouvo Elegance 135cc or Mio 125 motorbike for 2,500 to 4,000 THB per month (prices found 1/2017). If you need a motorbike delivered to your hotel – just ask us.
Krabi Motorbike Rental & Info >
The beach road in Ao Nang, and the Chao Fa and Uttarakit roads in Krabi town center are the best places to find motorbikes. In Ao Nang Beach, some rental shops have BIG motorcycles for rent and the price varies a lot.
There are motorbike taxis just about everywhere to take you where you're going. As a single woman, you might not risk it. It can be dangerous to drive from Ao Nang Beach to Krabi Town on motorbikes at night for men or women, there have been a number of violent incidents in which purses were stolen, motorbikes crashed, etc.
Motorbikes in Thailand for tourists are generally automatic (no shifting needed). They are quite fast – reaching speeds of 100 km/hour easily (63 mph). Motorbikes are dangerous if you don't know how to drive one well because Thailand is the 2nd worst place for driving fatalities in the WORLD.
Do be very careful to understand when to use your right and left brakes. The right brake controls what is almost always a "disc brake" on the front wheel. Do not use it around bends, in gravel, or in rain. You can crash so easily. The rear brake is good for most times – but can also lock up and skid.
There are white vans for long trips to Phuket, Surat, and other destinations. I would NOT take an overnight bus or white van anywhere. There are hundreds of accidents each year, many of them resulting in fatalities. Take the train or plane.
Info on Dangerous Driving in Krabi (applicable Thailand-wide)
Colored Songthaews (Pickup trucks)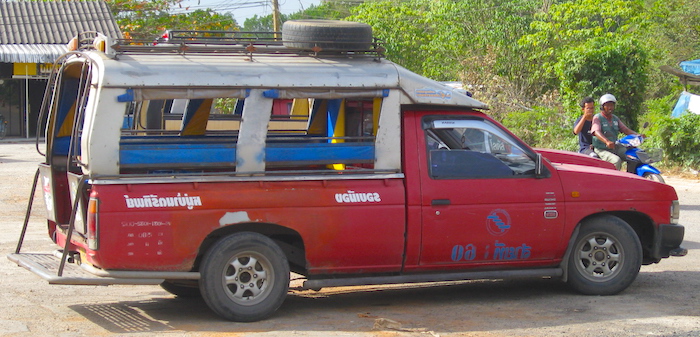 There are pickup trucks called Songthaews (song-tows) which run all over Krabi Town and out to Makro, and Tesco, and some will even drop you off at Tiger Cave Temple or other places if they don't have many Thai customers who want to go on the specific route. These are route-based vehicles that go in loops all day, but they will divert if they have no passengers. These are generally pretty safe, but crowded and hot sometimes.
The main locations each songthaew stops at are listed on the truck somewhere in English in tourist locations like Krabi.
Modern Tuk-Tuks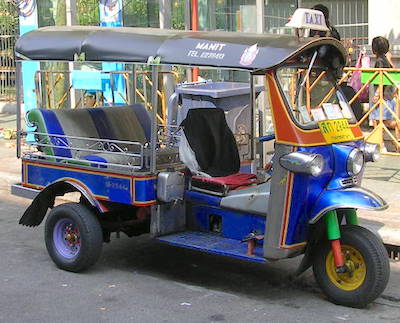 Krabi has modern-day tuk-tuks like those pictured. They are usually red, yellow, or green. They are small and cramped, but they can get you from Ao Nang Beach to Krabi Town and vice versa. (Image: Julien Gong Min at Flickr)
Colored 4-door Taxis
Krabi doesn't have as many 4-door taxis as Bangkok or Phuket. Occasionally you'll still see them because tourists take them from other tourist cities to here in Krabi. (Image: Peter Zoon at Flickr)
Local White Buses
Krabi has a big white bus (50 passengers) that goes from the Krabi Airport (KBV) to Krabi Town and Ao Nang that you can take for around 40 Thai Baht. Rides on this bus are generally safer than other vehicles, but we have had a white bus driver lock up the wheels in front of us after passing us one time on the road between the beach and town.
There are some very dangerous people driving vehicles in Krabi and other tourist towns. If your bus driver is driving irresponsibly, get off as fast as you can and take a photo of the license plate and report to the police.
Krabi doesn't have the typical orange city buses like some other towns (Surat, Ubon, Satun, etc.).
Local White Vans
The most dangerous vehicles on the roads – without a doubt. I would seriously consider renting your own vehicle and driving yourself, because, though you don't know the area, you're probably dozens of times safer driving yourself.
Any driver of a white van can be bad but especially watch for those who have racing stickers on the back of their van. Some of them drive just like they're in some private race in their heads – and drive very dangerously, with or without passengers in the van.
I never take a white van anywhere. A motorbike taxi is even much safer.
How To Get To Krabi?
Taxi Service
Call Son. Thai guy who knows all the taxi drivers in Krabi and can help you get anywhere. See his website link here.
Flying into Krabi International Airport (KBV)
Getting to Krabi is easy by air. Well, it's easiest by air for sure. Cheap flights from Bangkok (BKK) and Don Muang Airport (DMK) can cost 800 to 2,000 THB on average (one-way). Sometimes you can get amazing 1,000 round-trip flights to Krabi on Air Asia. The airport is located on Highway 4 past Tesco about 5 km. More info on KBV.
Krabi Town Bus Station
Full bus station info page is here.
You can take a long-distance bus from Bangkok, Phuket, Satun, Surat, and other places and arrive at the bus station in Krabi Town. The bus station is located in an area known as "Talad Gaew" (talod-gow).
A word about overnight buses and white vans… Personally, I don't take them. I stopped in 2006. They are just FAR too dangerous, and it seems that bus drivers have a death wish even more so than some of the white van drivers.
Bus and white van drivers race with each other up the highway, and the passengers be damned. It is not likely to change anytime soon. I would seriously consider flying anywhere you want to go – it is not much more money – and it is thousands of times safer.
There are always taxis and vans at the Krabi Bus Station to take you where you need to go – no reservation is necessary.
Ferry from Phuket, Koh Lanta, Koh Phi Phi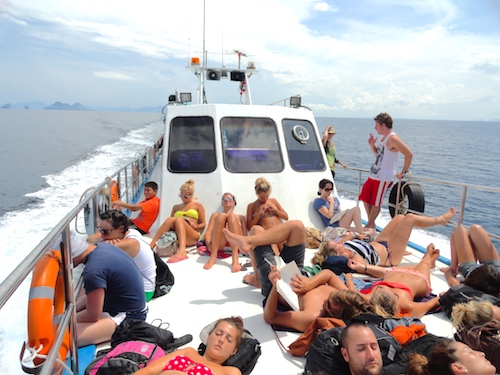 During the high season, there are boats every day from Phuket, Koh Lanta, and Koh Phi Phi. Boats arrive at one of two places – either in Krabi Town down past the technical schools, or at the pier in Noppharat Thara Beach.
The ferries used are large and generally safe, but should NOT be taken when the waves are more than a meter or so. Boat accidents in Thailand happen often. Make sure you can see flotation devices on any boat you get on.
In low season (May – October) ferry schedules may change to more infrequent trips, and sometimes canceling trips altogether from one location to another.
Unfortunately for us, there are no trains to Krabi from Bangkok, from Phuket, from Chiang Mai, from anywhere. The closest train station is in Trang province just Southeast of Krabi province. If you want, you can arrive there or leave from there to reach Bangkok or some other destination.
The other close train station is Phunpin station in Surat Thani province north of Krabi. You can take a van or bus there.
Where to get a taxi in Krabi Town to the Krabi Bus Station?
You can get a motorbike taxi, Songthaew (Truck with benches), or tuk-tuk taxi to the bus station at the SCB Bank on the corner of Uttaradit Road (River Road). Another place you can always find a taxi is in front of Vogue Mall. Vogue is the big building where KFC and Pizza Company are, near the Caveman Traffic Lights.
How to go from Krabi Town to Ao Nang Beach?
You can take a tuk-tuk, or a white bus from Krabi Town to the Ao Nang Beach area hotels. As an alternative, you can book a taxi through any of the travel guides located up and down the street in Krabi Town. Everyone knows a taxi they can call for you. OR, just call our friend Son, he speaks excellent English and he can help you immediately. His phone within Thailand is: 081.089.6135.
How to go from Krabi Town or Ao Nang to Koh Lanta Island?
Call Son at 081.089.6135, he speaks English well. Or, you can go to any travel agent on the street and they can book you a bus, white van, or private taxi.
All Krabi Attactions and Things To Do >
Krabi Expat and Visitor Resources >