The Krabi Bus Terminal is the main station to catch a bus to many places in Thailand. Buses operate to and from Krabi daily with connections to Bangkok, Phuket, Phang Nga, Trang, Satun, Hat Yai, Nakhon Si Thammarat, Surat Thani, Ko Samui, Ko Lanta, and connections to Chiang Mai and other points in the far north.
Arrivals and departures are in the same main bus station area.
Is the Krabi Bus Terminal the Only Bus Station in Krabi?
Yes, it is the main bus terminal in Krabi and most buses operate directly from this location.
Krabi Bus Terminal is an in-town bus station that is on the outskirts of Krabi Town in the Talad Gaew subdistrict of Ampur Muang Krabi (city center).
About the Krabi Bus Station
This bus station is small and yet it does a lot of business. The buses are constantly rotated around to serve customers as buses leave and new ones arrive. This is a recently remodeled station but you probably won't notice anything fantastic about it. It's a basic station like train stations in Thailand. No frills.
The Krabi Bus Station has 20 platforms surrounding the building. It can still be a bit confusing trying to figure out what is happening here. To us, it is really no joy at all taking a long-distance bus in Thailand.
To be honest, we avoid it at all costs! We'll drive ourselves with our own car or rent a car rather than go in a bus. It's better to control your own pace, speed, air conditioning, music, and passengers close to you, and increase your comfort in your own vehicle.
General Bus Travel Information
Krabi is a large province with many different popular locations. Bus arrivals in Krabi frequently transfer to white vans or other buses to Ko Phuket, Ko Phang Nga, Surat, Trang, and the piers when bound for Ko Phi Phi, Ko Yao Yai and Lek, Ko Lanta, Ko Jum, and beach locations like Hat Noppharat Thara (part of Mu Ko Phi Phi National Park) and the Ao Nang beaches.
Most bus travelers are Thai, but during high season there are also many foreigners using buses.
Are Buses in Thailand Dangerous?
In our personal opinion, and in the opinion of hundreds of people's families who had a family member die on one, YES the buses in Thailand are dangerous. Sometimes very dangerous. The problem is the long drives.
Overnight Buses (Beware). For long-distance buses, bus companies prefer to travel at night because there is little traffic and they can speed as fast as they want without consequence. There are many bus accidents on overnight trips as the bus driver falls asleep at the wheel or misses a turn in the rain and slides the bus off the road, flipping it sometimes, and killing tourists and Thais far too often for us to consider riding them.
Overnight buses will stop for food and for toilet breaks sometimes, but it is still not enough. It is widely known that many bus drivers and white van drivers all over the country are taking methamphetamine and other drug enhancements to attempt to stay awake during long rides.
If you are saying to yourself, "oh, it couldn't be that bad." Just do a Google search on Thailand bus accident and see buses on fire, rolled over, crushed, etc. It's just not worth the risk to take an overnight bus in this country, to be as honest as possible about it.
Trips from Krabi to Bangkok and vice-versa take an average of 11-12 hours.
Where Is the Krabi Bus Terminal?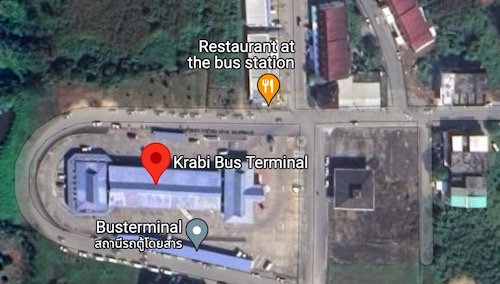 Address: Pak Nam, Mueang Krabi District, Krabi 81000. Don't send mail, nobody is going to return your mail.
GPS Coordinates – 8.099792348949425, 98.90568378455806
Easy Way to Find the Bus Station?
You can reach the bus station on foot, by motorbike taxi from Krabi Town, or by Songthaew, local white bus, or taxi from Ao Nang or other areas.
From Krabi Town travel down Uttaradit Road (River road) away from town toward the mountain you can see down the river. At Talad Gaew intersection (with Highway 4) make a left. Make the next left and you'll see the bus station in about 250 meters (273 yards).
Transportation from Krabi Bus Station to Krabi Town?
Just hop on a motorbike taxi and for 60 THB you'll be in Krabi town in 5 minutes. You can also take a shared van if you have a lot of luggage. Prices for van rides may be 100 to 300 THB to go into town and you may have to wait until other passengers are dropped off at their hotel before you reach yours.
You can also go from Krabi Bus Station to Ao Nang or other destinations by asking the help desk at the station for help finding transportation to where you're going. They'll call someone special if they need to.
Is the Bus Station Safe to Sleep at Before Your Bus Trip?
NO. Do not for any reason go to the bus station at night to sleep before an early morning departure on a bus trip. The area is not good and there are no police around that area. The area has some prostitution places and red-light district bars, but these are the seediest of the seedy and you do not want to be here at night.
Are There Restaurants Around the Bus Terminal?
Again, this is not the greatest area in the world and the very limited number of 'restaurants' in the area reflect that. I would eat elsewhere and bring food in a bag to eat at the bus station if you're hungry.
However, if you're willing to walk to the food market about 200 meters away, you'll find a great selection of fruit, food, beverages, etc. Highly recommended that you make the trek to find the market!
Takeaways
Don't sleep at the bus station at night, it is not a safe place. Daytime is safe.
Please don't take overnight buses, there have been many crashes and people killed. Thailand has some of the most dangerous roads in the world, please consider your loved ones before taking a bus. Take a plane or your own rental car instead.
Walk to the food market to eat, there is a large variety of food there.
Long-distance white or silver vans have the same accident issues and are NOT recommended.
Krabi Expat and Visitor Resources >
Krabi Airport (KBV) >