We have lived in Krabi Town for more than 16 years. We've seen the main Krabi night market morph into its current state where they close down a road beside the Vogue Mall and it's filled with Thai vendors.
Krabi has a few big markets and night markets, and we'll tell you about all of them here.
Krabi Night Market (Main)
We're not too sure why the Krabi Night Market is called this, because it is also open in the middle of the day. You can go almost any time of the day and there are people selling fresh fruit, salads, meals, ice cream, donuts, pancakes, and other things to eat at this market.
The market is mostly focused on selling fresh fruit like bananas, tangelos, dragon fruit, pears, apples, oranges, mangos, grapes, lemons, and any fruit that is in season. They have a leather repair store on the east end and a florist towards the center/east part of the rectangle inside.
The Krabi Night Market is a great place to go if you are hungry and don't feel like eating at your hotel or one of the slightly more expensive restaurants you could walk to from your hotel.
Many people we know who have stayed in Krabi Town just preferred to walk over to the Krabi Night Market for lunch and dinner and snacks anytime they got hungry. It's a convenient spot to get good food fast without hardly waiting at all.
Most of the meals sold can be quickly prepared and as long as you don't come from 6:30 to 8 pm. you can get something quickly and leave to eat elsewhere or just sit down there and eat. There are many places to grab a seat at a table and eat.
Krabi Night Market Location
The Krabi Night Market is in a rectangular space across from 7-11 on Maharat 10 sidestreet which is the road next to Vogue Mall. You can find it at Google Maps: Krabi Night Market here. Here's the GPS: 8.065167205428004, 98.91633997192977
Krabi Walking Street Night Market (Friday and Saturday)
In Krabi Town is the biggest walking street night market regularly held on the weekends on Friday and Saturday after 5 p.m. It's a walking street where they close it down to cars and only people can walk around there. It's crowded sometimes, especially around 7:30-10 p.m. There are some places to buy food and sit and eat it, but not many! Most people are standing up.
There are some events put on by school kids and other people (adults) doing singing, dancing, and other shows. These are free, and Thais love them. Our children were in these shows sometimes. A great place for photos of special moments!
The Walking Street Market has many skilled artisans selling things like special soap, candles, light fixtures, clay figures, art – photos, paintings, drawings, and food of every kind – mostly snacks, to be honest!
There are all kinds of beverages, but no beer at this Krabi Night Market. There are bars and restaurants around the market and you can easily walk to one if you need something.
This Krabi Walking Street Night Market is not close to any sort of nightlife, but if you just want a bar to eat and drink at, you can walk from here easily to Chao Fa Road or down by the small pier/dock near Easy Cafe and there are a couple of spots to drink and eat that tourists seem to like.
Darren's complete coverage of Krabi's Walking Street Market at Night >
Location
The location is right beside Vogue Mall in downtown Krabi Town, not far from the Caveman Traffic Lights. The market has an entrance at Maharat Road beside the mall and an entrance at the other side over on Uttaradit Road (River Road). It's on the Maharat 8 Alley. The exact GPS you can use to find the Krabi Night Market is: 8.064470400504629, 98.91613175866158. Here's the entry on Google Maps: Walking Street.
Second Hand and Fresh Produce Market
We call this one the Krabi Elephant Traffic Lights Market because it's right down the hill from the big elephant traffic lights on Maharat Road.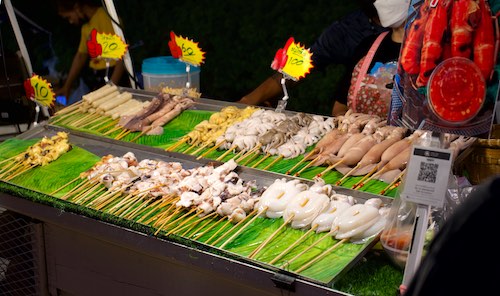 This Krabi market is open Tuesdays and Saturdays from 2 p.m. to 7 p.m.
On only two days per week, there is a great little fruit, vegetable, and mostly food market. We always go to this one because it's exciting for some reason! They have lots of second-hand clothes to sell also – shirts, pants, shorts, dresses, and shoes are for sale here.
Traffic gets a little crazy on ChangaVeghul Road, so you're better off to either pay for the parking beside the market or just park on Maharat Road or further down the road the market is on.
Location
You can find it on Google Maps here: Second Hand and Fresh Produce Market. The exact GPS is: 8.085345007142797, 98.9042385512029
Sator (Sa-Tor) Market
Open Sunday, Monday, Wednesday, Thursday and Friday from 3-8 pm.
This is a large, mostly Muslim-themed market that is open 5 days a week for 5 hours a day. They have mostly food and vegetables that people grew themselves, and they sell used clothes and other items that are useful for around the house.
Location
You can find this large market at the intersection of Highway 4 and Maharat Road outside of Krabi Town. Google Maps: Sa-Tor Market. GPS: 8.10349170771558, 98.89552503473953
Ao Nang Night Market (Day Market)
Open hours Monday, Tuesday, and Friday from 1:30-7 pm.
Found just east of Makro by 200 meters on Highway 4203 in Ao Nang Beach is a big market that is full of fresh fruit and vegetables, clothes, toys, hats, bags, waist packs, cups, dishes, and all sorts of plastic items you might need for around the house.
Location
The market is crowded every time they are open. The name in Google Maps is Aonang Local Market. GPS: 8.04246637647668, 98.84321027637144
Ao Nang Landmark Night Market
Located at the beach in Ao Nang, this night market is large and has a wide variety of foods to eat for meals as well as fruits, veggies, desserts, electronics, clothes, and sometimes pets and other odd items.
Location
At Google Maps: Ao Nang Landmark Night Market. GPS: 8.043180306668571, 98.81141369834576
Special Event Night Markets?
Yes! Every time there is a special event in Krabi like a long holiday or another special day, Krabi Town will block off roads and allow vendors to set up shop selling food and miscellaneous goods – many of them great for tourists to buy for friends at home.
The next major event coming up this year is Songkran – Thai New Year's Celebration. This is a water-throwing festival where cars, motorbikes, and people walk around the streets throwing water at each other and rubbing cooling powder in people's faces. It's a fun time for kids and adults who like this sort of thing!
For Songkran, the city usually makes a plan for how traffic will be allowed to go. There is a LOT of traffic.
Usually, Thara Park is the site of big night markets in Krabi on holidays because there is a lot of space around it. Police block off roads so cars cannot travel there, and it's for people walking only.
You won't find good Italian Pizza at these markets, so here are the Best Pizza restaurants in Krabi >