This article provides tips on how to travel to Krabi on a budget, including where to stay, eat, and play. We have lived here for 16 years, so we know how you can best go about it!
Getting To Krabi
Traveling to Krabi is not too difficult and a number of options exist. Krabi is a mainland province that has some islands. Many people call it Krabi Island, but no, you can drive here from the other provinces and take boats to the islands as you wish.
Fly to Krabi Airport (KBV)
Unless you're already visiting a province close to Krabi, you'll want to fly to the airport here. Flights are very cheap from Bangkok's Don Muang Airport (DMK) and you will probably pay about 2,500 Thai Baht per person (about $70 USD) for the short 1.5-hour flight.
You can directly fly to Krabi from only 2 places in Thailand at the moment. Bangkok and Chiang Mai. Chiang Mai has a 2.5-3 hour flight that directly goes to Krabi. This is ideal because you can see the north and south without bothering to transit through Bangkok!
Krabi is also an international airport that receives flights from many nations, especially Asia.
Bus from Bangkok, Phuket, Koh Samui, or Other Province to Krabi
Busses are the main form of transportation within Thailand if you're not taking a plane to our province. You can easily go from just about anywhere to Krabi, but often you will be routed through Bangkok. Check here for bus stations and connections by bus.
Train to Krabi?
Cannot! You can take trains to Phunpin Station in Surat Thani, or to Trang Train Station. Both of these options are about 150 km (93 miles) away from Krabi Town. You can get a van or bus from there to Krabi.
Boat to Krabi?
From Phuket you can take a speed boat or ferry to Phi Phi Islands and then to Krabi mainland. From Koh Lanta, you can take a ferry to Krabi. From Krabi you can take longtail boats like the one pictured to islands within 15 km. or so.
Where To Stay Cheap – Ao Nang Beach or Krabi Town?
To save money, you can stay in Krabi Town where the average cost of a hotel for a night is around 800-1,000 Thai Baht. That's about $30 USD. Contrast that with the average cost of accommodations in Ao Nang by the beach, at around $1,500 per night.
The thing about Krabi is that there are some great things to see and do around Krabi Town, and there are some around Ao Nang Beach. Ideally, you'll stay in both locations for a few days so you can be close to fun things to do.
If you'll be going to the beach often, visiting islands, or even going out to stay on Krabi's islands, like Koh Phi Phi or landlocked Railay Beach, you should stay in Ao Nang for that portion of your trip. Check out the Sea Seeker Resort and get a room rate of around 1,000 THB during the off-season! They get fantastic reviews.
If you want to see the Hot Springs, Crystal Pool, Caves, Huay Toh Waterfall, Tiger Cave Temple, or go see what wildlife you can spot at night on a Wildlife Field Trip, you'll want to stay in Krabi Town for at least part of your stay to bring you closer to these amazing things to do!
The Hop Inn is in a good location close to the Krabi Night Market, Mall, and places to eat – all within easy walking distance. You can also reach the river walk, Thara Park, and other areas easily.
If you're down to try a hostel, the best hostel in Krabi Town is Pak Up Hostel at around 650 THB per night. They have things for young folks to do too, so they keep it interesting and you'll meet other travelers there.
Where To Eat Cheap in Krabi?
In Krabi Town you can eat cheaply all over the town. Prices at all restaurants are reasonable and at many the food is delicious. Stick to the following places to eat if you want great food and a fair (and low) price:
Bistro Monacos – There's a reason they have been the number 1 rated restaurant in Krabi Town for a few years in a row. Martin, the German owner makes excellent pizza, pasta, greek salad, and wiener schnitzel (among many other dishes)!
Night Market – Beside the mall (near the caveman traffic lights) you can find the Night Market on the weekends. They have a lot of variety of Thai foods you can buy and eat as you walk around, or get a chair at a table and sit for a bit. If the main night market is not open, you can visit the other market on the other side of the mall where they have a lot of fruit and food in bags. There are places to sit in the back of the market.
Mom and Pop Restaurants – All over town, and along just about any road, you'll find small restaurants that cook food to order. You can usually choose from a range of dishes. Some places make Gwit Diao Soup (noodle soup), and usually Kow Men Gy as well.
Other restaurants can make you Grapow Gy, Grapow moo (pork), Tom Yum Soup, Pad Ceeyu (thick noodles – delicious), and Southern Curries like Penang Gai and Geng Wan Keow (green sweet curry). Typical prices for lunch or dinners in Krabi at shops like this is around 70 Thai baht. Ask for the price first to make sure. The Thai is "Tow ry krup (if male)" and "Tow ry ka" for females.
Fun Things To Do On a Budget in Krabi!
There are so many things you can choose to do in Krabi and to be honest, there is nothing that is too expensive if you've just traveled thousands of miles to reach us! Still, here are some things we recommend and the approximate cost (prices change in high/low season).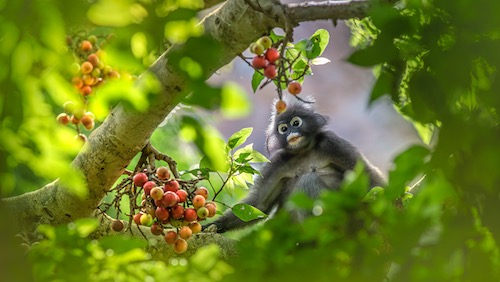 4 Island Tour – Many people take a longtail boat out to 4 different islands (usually 3 + Railay Beach) and the boat stops for snorkeling and exploring. This tour is around 1,000 THB per person and is one of the best deals available. The thing is, many people do it and it can be crowded at the different stops, but it's still worth going. You can get these tours from Ao Nang Beach.
Emerald Pool – This big spring-fed natural pool is an amazing thing to do in Krabi and it only costs around 300 THB per adult, and less for kids. There is also Blue Pool at this same spot, so don't miss it! It's a couple hundred meters (yards) hike up the hill into the forest. That is a non-swimmable pool of crystal blue water that is great for photos.
Hot Springs – This one you can do on the same day as the Emerald Pool since the location is close and you get a discount for going to both the same day! I think the price is only another 100 THB for a visit to the Hot Springs after the Emerald Pool.
Tiger Cave Temple – Free and one of the coolest things to do in Krabi Town. Climb 1,256 steps up a limestone mountain to reach the top where there is a huge Buddha and shrine as part of the Wat Tham Seua Buddhist temple founded by Ajahn Jumnearn Seelasettho.
Other Tips for Saving Money in Krabi On Vacation
Taxi trips between the beaches and Krabi Town are expensive at night. Far more expensive. It's better to travel during the day for at least part of your trip to save around 500 THB.
Use motorbike taxis for short trips, they are fast and cheap and we've never seen one in an accident.
Hit the happy hours for significant drink discounts!
Wait for a group of people to go on boat rides, the fee is the same for 1 person or 6 or 10. Split the cost!
Don't miss our 25 Tips for Saving Money in Thailand article for more great ideas on keeping money in your pocket during your vacation.
[Images: Top featured by Spenser Sembrat (rJiuHbe5NTM). ]