(Page Updated: 17 August 2023)
Ao Nang's Beaches are located between Ao Nam Mao and Noppharat Thara Beach (Long Beach) on the coast of Krabi province. Info about ALL BEACHES here.
Ao Nang area is where the majority of visitors to Krabi stay for at least a couple of nights before jumping off to Ko Phi Phi islands, Railay Beach, Ko Jum, Krabi Town, or Phuket by ferry, bus, or van.
Ao Nang is a bustling shopping district for the most part. There are many 1-2 story souvenir shops lining Beach Road, and some of the best eating in Krabi can be found at the restaurants on the beach.
The ocean at the beach is pretty clean, and much cleaner than somewhere like Pattaya or most of the other Gulf beaches. Krabi faces the Andaman Sea directly. As a result, Ao Nang and it's nearby beaches can have big choppy waves – especially during the April – July timeframe. The waves are not surfable for very long, and we don't see many people attempting it. I don't know of even one surf shop in Krabi, so that gives you some idea of the quality of surf.
There is a ferry service from Ao Nang to Railay Beach. This consists of small longtail boats that take you the 10-minute float around the big bend where Railay rests. Railay beaches are inaccessible except by boat. You could swim there I guess, but I haven't seen anyone do so. I have seen some people saving the very nominal 100-150 THB by walking around the cliffs to reach Railay during very low tide.
There are many affordable hotels at Ao Nang Beach – you can almost always find one willing to rent a simple fan room to you for 600 THB (about $18 USD). During low season the price can drop more. You will find these bargains if you walk up Beach Road toward McDonald's Restaurant. On both the right and left sides, there are small hotels with great discounts.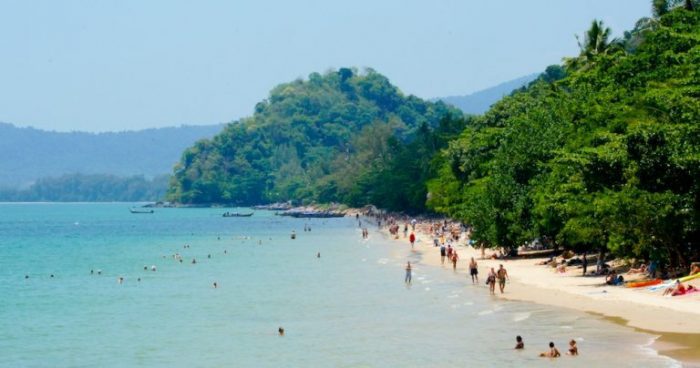 There are high-end resorts – very expensive, right on the beach. Centara Resort is one of these – just amazing. It's like a private beach there, and the scenery is breathtaking. You also need a boat to get over to Centara, or you could walk up over the stairs through the jungle – not too far or strenuous – but, you will sweat.
Western restaurants abound in Ao Nang. You'll find: Mcdonald's, Burger King, Pizza Company, Swenson's Ice Cream, Haagen Dazs, Dairy Queen, Subway sandwiches, Starbucks Coffee, and some others. There are two incredibly delicious Italian restaurants, "Spaghetti House" just up from McDonald's, and "Umbertos" – up the side street from the tourist police station. If you want KFC – Kentucky Fried Chicken, you'll have to go to Tesco, Big C, or Vogue Mall shopping centers in Krabi town.
The beach is not very wide – only 10 meters in some parts, less and more in other spots. The sand is rather coarse. The water is not very clear in Ao Nang, you'd need to head out to Ko Phi Phi, Railay, and other islands for the crystal-clear Andaman Sea.
Ao Nang Beach Location in Krabi: On Railay Cape, 1.8 km. (1.1 miles) southeast of Ao Nang Beach (direct line). 8.8 km (5.5 miles) southwest of Krabi Town (direct).
Direction Facing: Southwest
Beach Length: 1.53 kilometers (5,009 feet)
Beach Width: 432.6 meters on average – (107 feet)
Estimated Beach Area Meters2: 661,878
Beach Quality: the sand isn't so soft, it's rather rough, and a lot of small sharp shells and some buried bottle caps and glass to be careful of. The beach is not well-cleaned. The water is fine, not so clear, and there are rocks and shells under the surface to be aware of in most places.
Ocean Bottom: Hard shells and rocks, some sandy spots.
Surrounding Beaches: Noppharat Thara Beach to the northwest, and the Railay beaches to the southeast.
Restroom / shower facilities? No. There are restrooms at the hundreds of restaurants that line the beach though.
Beach Features: The sand is not so great. Water is not so clear. Bottom is a bit rough. Not the ideal beach and most people don't stay here for anything more than a walk around at sunset. Look further down the beach to Noppharat Thara Beach for better everything.
Public or Private? Entrance fees? Public, no fees.
Boat anchorage possible? Short-term is possible
Boat dock and marina? N/A
Attractions: There is a lot of shopping at Ao Nang Beach and some good places to eat. There is nothing like a real attraction, except going to Railay Beaches and Noppharat Thara Beach just to the northwest.
Activities: Shopping, eating, exploring surroundings – there are many things to do in Krabi, you should start with going to see Railay Beach!
Surfing? Not really known as a surfing beach, but on some of the swells you could take a board out here and get some short rides. There won't likely be anybody else in the water doing the same, so be careful of rip tides.
Warnings: Waves from May to October can be so large that it is risky to take a longtail boat out on the sea. Do wear your life vest when getting on a small boat.
Ao Nang Beach Restaurants / Bars
Umberto's Italian Restaurant – This Italian-owned restaurant is the best in the entire south of Thailand in our opinion. Umberto is straight from the motherland, and can really make fantastic pizza and other dishes – not just Italian, but his steaks are excellent as well. The restaurant is open-air and usually gets crowded at dinner because it's so good. Make a reservation. This restaurant is located between Ao Nang Beach and Noppharat Thara Beach – up the side road near the Tourist Police Station. 
Seafood at the Beach – there are a couple of seafood restaurants over at Noppharat Thara Beach that are good. Right by the parking area and public showers.
Ao Nang Beach Accommodations
Centara Grand Beach Resort & Villas – located on their own private beach, this resort has an exclusive (to die for) location, with villas up on the hill – all giving a perfect view down over the ocean. Reasonable cost considering the location and quality of the property at just around 6,000 THB per night.
All Krabi Beaches >