Overview of Ko Lanta Island
Ko Lanta Island is divided into two main parts – Ko Lanta Yai (Big Lanta Island) and Ko Lanta Noi (Small Lanta Island). Ko Lanta Yai is the larger of the two islands and is home to most of the tourist infrastructure. Ko Lanta Noi is a quieter and more secluded island that is mostly inhabited by locals.
Note – 'Ko' means island. You may also see it spelled 'Koh' because nobody can agree how to spell it. We simplify it here!
Ko Lanta Yai Island is a rather large island in the Andaman Sea off the coast of Thailand next to Trang and is the southern part of Krabi Province. It is around 80 km (48 miles) from Krabi Town. Ko Lanta is known for its beautiful beaches, relaxed atmosphere, and laid-back lifestyle that matches Bob Marley's vibe. Many of the bars and restaurants are in full Bob Marley style and play reggae music over the speakers, and there are some bars with live reggae as well.
Popular Ko Lanta Island Beaches
Klong Dao Beach – This is the longest beach on the island and is a great place to relax and swim.
Pra-Ae Beach (Long Beach) – This is another popular beach with a wide sandy beach and clear waters.
Klong Khong Beach – This beach is located in a beautiful bay and is a great place to go for a swim or go snorkeling.
Khlong Nin Beach – This is a small, secluded beach that is perfect for couples or those looking for a quiet getaway.
Best Beach for Relaxation?
Ko Lanta Island is a great place to relax and enjoy the natural beauty of Thailand. Whether you are looking for a beach vacation, a cultural experience, or an adventure, Ko Lanta Island has something to offer everyone.
The best time to visit Ko Lanta Island is during the dry season, which runs from November to April. During this time, the weather is warm and sunny, with little rain. However, the island is more crowded during the dry season, so you may think there are too many people for your liking.
If you are planning a trip to Ko Lanta Island, there are a few things you should keep in mind.
Why Visit Ko Lanta Island?
If you love being outside, with ultra-clear water, clean and light-colored sand beaches, you'll love Ko Lanta. If you love a laid-back atmosphere where nobody is stressed out and everyone just wants to relax and be happy and see everyone else doing the same, you'll love Ko Lanta.
When Is the Best Time to Visit Ko Lanta?
Just like with visiting mainland Krabi like Ao Nang Beach and Krabi Town, the best time to visit Ko Lanta is usually during the dry season, this is also known as the high season.
Getting There
By Plane
There is no plane direct to Ko Lanta Island, but you can arrive at KBV airport – Krabi International Airport and get a white bus to Krabi Town then get a bus to Ko Lanta.
By Boat
You can take a boat from Krabi to Ko Lanta, and from Ko Phi Phi to Lanta. Try the Noppharat Thara Pier, and the main pier in Krabi Town.
By Bus
Take a bus straight to Ko Lanta from Krabi Town. Take a bus from Ao Nang Beach to Krabi Town, then to Ko Lanta. Take a bus from Phuket to Krabi Town, then to Lanta. Find the main bus stations for the area you are in and they will know how you can get to the island.
By Train
The fastest way to reach the island using a train is to take a train to the Trang Train Station and then get a white van, bus, or taxi to the island from there. This is a relatively fast way to reach the island besides the fastest – plane to Krabi and bus/van to Ko Lanta.
Where to Stay on Ko Lanta Island?
Budget Accommodations
Lanta A&J Klong Khong Beach Resort – This one gets very high ratings. They have beach access, and massage tables on the sand. Their rooms are updated and stylish and you shouldn't have any problem with cleanliness. They have an on-site restaurant and the price is right at under 1,000 THB during the off-season months (Nov to April).
Coco Lanta Eco Resort – Located right on the beach at the Andaman Sea, this chill resort is close enough to walk to the shops by Khlong Khong. Rooms are modern with free WIFI, flat-screen TVs, mini-refrigerators, and tea/coffee hot water makers and supplies. There is a safe in each room. Bungalows have patios with hammocks – a guest favorite. Coco Lanta has a restaurant, an outdoor pool, and a beach bar. Pool table, garden, and massage tables are here for something to do with all your free time!
Mid-Range
Twin Lotus Resort – This is an upscale adult-only resort at the Northwest tip of Ko Lanta Yai Island that has beach access and over 500 ratings with a 4.4 out of 5 rating. Light and bright modern rooms have free WIFI, flat screens, minibars, and tea/coffee solutions. An upgrade to the basic unit will get you a balcony with lounge chairs, a free-standing tub, and elegant living areas. Twin Lotus has a gym, spa, and a couple of outdoor pools and restaurants. A beach bar will put a smile on your face, as well as the fact that there are no children running around making noise! Bikes, kayaks, snorkeling gear, and paddleboards can be rented.
Luxury Resorts
Pimalai Resort and Spa – This luxury property is located on the very Southwest side of the island down by the national park. The location is dreamy, and Pimalai is certainly one of the top, if not the top luxury resorts on Ko Lanta. At just under 8,000 THB per night, this is the highest-priced option on the island, believe it or not. A comparable resort in Tub Kaak Krabi would be over 15,000 THB per night.
Lanta Corner Resort – Set on the hillside of Klong Toab, the Lanta Corner Resort gets great reviews and offers mountainside views over the beach and ocean of mid-Lanta Yai. Villas have updated contemporary interiors and service was noted as excellent.
Things To Do on Ko Lanta
Ko Lanta National Park (Mu Ko Lanta National Park) – This park protects a large area of rainforest and mangroves on the island. If you go one place while you are on the island, go here and enjoy stunning beaches and rocky cliffs. The trail is a bit muddy and with some monkeys, but if you're adventurous?
Lanta Old Town – This is a small village that is home to traditional Thai shops and restaurants.
Lanta Living Museum – This museum tells the story of the island's history and culture.
Lanta Animal Welfare Center – This multi-purpose animal rescue center cares for rescued animals, including dogs, cats, and elephants.
Hiking – There are hikes leading to Tham Khao Mai Khew Cave and Waterfall, Khlong Chak Bat Cave, and at the Mu Ko Lanta National Park. Some people walk the roads around the island, but to be honest, that isn't the safest thing to do. The roads are thin and not made for pedestrians.
Here are 25 Things to Do on Ko Lanta >
Ko Lanta Snorkeling and Diving
Below are some of the best snorkeling and dive spots around the Ko Lanta Islands.
Hin Daeng and Hin Muang – These two limestone pinnacles are located about 2 hours from Ko Lanta and are considered to be some of the best diving in Thailand. The walls are covered in colorful corals and fish, and there is a good chance of seeing sharks, turtles, and even whale sharks.
Ko Haa – This is a group of islands located about an hour from Ko Lanta and is known for its beautiful coral reefs and abundant marine life. You can see turtles, stingrays, and a variety of fish, including clownfish, angelfish, and barracuda.
Ko Bida – This small island is located about 45 minutes from Ko Lanta and is a great place for snorkeling. The waters are shallow and clear, making it easy to see the fish and coral.
Rok Nok and Rok Nai – These two islands are located about an hour from Ko Lanta and are known for their pristine coral reefs. You can see turtles, stingrays, and a variety of fish, including parrotfish, angelfish, and grouper.
Ko Mook – This island is located about 2 hours from Ko Lanta and is known for its beautiful lagoon and white sand beaches. You can snorkel or dive in the lagoon to see a variety of fish, including clownfish, angelfish, and barracuda.
The BEST SNORKELING is found in the shallow waters around the islands of Ko Haa, Ko Bida, and Ko Rok. These areas have clear waters and abundant marine life, making it easy to see the fish, coral, and other marine life.
You can also go snorkeling in the waters around Ko Lanta itself. However, the water clarity is not as good as in the areas around the islands, and the marine life is not as abundant.
Whether you are a beginner or a seasoned diver, you will find plenty of great diving and snorkeling opportunities in Ko Lanta. With its clear waters and abundant marine life, Ko Lanta is definitely a diver's paradise.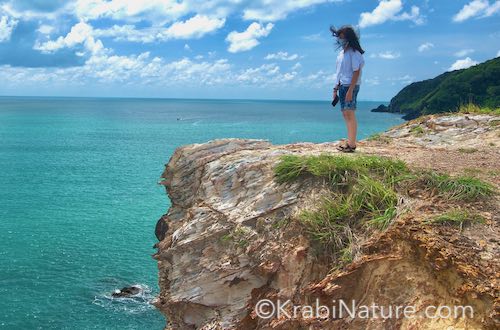 Tips for Snorkeling/Diving Trips in Ko Lanta
Check reviews of dive sites and boats before you go, they are not all equal.
Be aware of the currents and tides. Go with very experienced crews (check reviews).
Wear sunscreen and a hat to protect yourself from the sun while on the boat.
Bring a camera to capture your underwater adventures.
Respect the marine life and do not touch or disturb the coral.
Boat Trip to Phi Phi from Lanta Island
You can get a ferry boat trip for just $11 during the low season, but it's going to take a while to reach Ko Phi Phi at that rate.
Best Food and Restaurants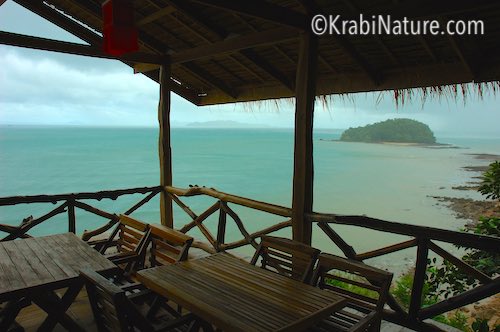 Ko Lanta doesn't have the selection that Krabi Town and Ao Nang Beach have for restaurants of all kind, but they have some good ones. We cover a few of them below.
Thai Food
Literally, everywhere you look will be good Thai food. It's rare that I ever have Thai food that isn't any good at small restaurants. You should look for a place on the main road that has at least a few people (Thais) eating there.
The more locals you see eating there, the better the food is. At least Thais think so, and they're probably right on. Locals know where the clean and good food is, so you should eat in the same places.
Remember, you will find 90% of all the restaurants on Ko Lanta Yai on the top Northwest side of the island. The further you go South, the fewer options. Of course, all the resorts in the south have their own restaurant/dining areas.
International Food
Sole Mare Italian Pizzeria & Restaurant – This Italian restaurant has a large menu and great reviews (over 760!). They get a very high 4.6 out of 5 rating and it's definitely the best place on Ko Lanta to find pizza. If you know us, we're sort of 'pizza fiends'. To be honest, the excellent German beer selections were also what grabbed our hearts!
Loro Loco Pizza Cuisine Restaurant – This one has even BETTER reviews than Sole Mare, and they have falafel, pizza, HUMMUS PLATE, and burgers. You're going to have to try both and see which you prefer. We haven't eaten here yet, so at the moment we are going with Sole Mare, but we WILL eat here and tell you what it's like!
Vegetarian Options
Panorama, Tuesday Morning, and The Angels are 3 delicious vegetarian restaurants you can choose from if you require vegetarian/vegan food for your meals. Panorama Restaurant is located on the East side of the island and they have excellent food and ratings, and even better views!
Nightlife in Lanta
The nightlife in Ko Lanta is not anything like the craziness of Bangkok, Phuket, Pattaya, or even Chiang Mai. You almost certainly wouldn't come to this island for that kind of thing.
What Lanta does have is a lot of very chilled-out reggae bars and rock bars with live music. If that's what you're looking for, and you don't mind the smell of marijuana in the air, that's exactly what you're going to get. Even before weed was legalized, Ko Lanta was a sort of haven for pot smokers and consumers of other drugs. There are certain bars for it, you'll begin to know your way around in a very short time, just by asking.
Quiet/Chill Bars
Why Not Bar – Steak, burgers, lahp (spicy meat salad), fries, drinks, this bar has it all when it comes to bar food. Ratings are very high and this is one of the most popular bars on the island. Built of bamboo frame and thatched roofs this one is super chill and shouldn't be missed. Plan at least one sunset here, and possibly exploring a new morning here if you stay all night!
Live Music Venues
Rasta Baby – Another near-perfect beach bar/club with beach seating, excellent menu options, and the perfect sunset spot all with LIVE MUSIC! Super ratings and an ultra-chill vibe brings visitors from all over the island for a night of island fun.
Both Rasta Baby and Why Not bars have a fire show on the sand after sunset. Quite fun, and not to be missed!
Tips for Visiting Ko Lanta
Book your accommodation in advance, especially if you are traveling during the peak season.
Bring sunscreen, insect repellent, and a hat.
Be prepared for the high heat and humidity, especially from March to July.
The Southern part of the island is steep and slippery when wet. If on a motorbike you should be VERY good with it, or don't even try. Read about driving Motorbikes in Krabi here.
Learn some basic Thai phrases.
Key Takeaways
Ko Lanta Island is south of Krabi Town about 80 km (around 50 miles). It's an easy drive without too much traffic any time of the day.
Explore caves, waterfalls, and stunning beaches. Don't miss the Mu Ko Lanta National Park at the South end!
There's a Bob Marley easy-going marijuana-smoking chill vibe going on after dark that you may not want your children to be part of.
The diving and snorkeling is pretty epic and the boat rides to other islands will be a highlight of your trip if you're adventurous!
Rent good accommodations! If you can splurge and pay 5,000+ THB per night, there are some really lovely private resorts that will spoil you and keep you secluded from the rather dirty and 'poor' areas of the island.