One of the most popular tours for visitors from all over the world is the 4 Islands Tour you can take from out of Krabi's Ao Nang Beach on a longtail boat or speedboat.
What Islands are in the Krabi 4 Islands Tour?
The four islands tour covers Phra Nang Cave at Railay Beach West, Chicken Island (Ko Gai), Tup Island (Ko Tup), and Poda Island (Ko Poda). All of these are close enough to be able to do in one day and include some snorkeling or beach exploration.
How Long Does a 4-Island Tour Last?
Pickup is usually in the morning around 8 am. You will be dropped off back at your hotel around 3 pm. You'll still have time for more activities if you have the energy!
If you go on a sunset 4-Island Tour, you'll be picked up around noon and finish at 7 pm. back to your hotel.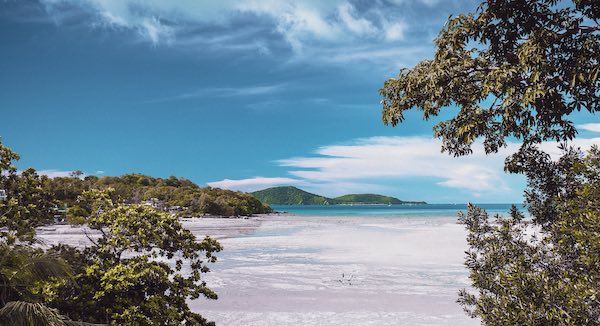 How Much is the 4 Island Tour?
Though tour operators can charge whatever they want, the prices tend to stay around 1,000 Thai Baht for a longtail boat and 1,200-1,300 for a speedboat. Make sure to get a list of what is offered because some tours offer more – like fruit with your water or a sunset tour that includes dinner!
The Islands You Visit in the 4 Islands Tour
Phra Nang Cave Beach (Railay Beach)
Famous for its stunning limestone cliffs and crystal-clear waters, Phra Nang cave has a long history of visitors to it for an interesting reason.
The cave is right on the beach, with a sandy floor and water coming up to the entrance. The cave is dedicated to fertility and there are hundreds of carved wooden and stone phalluses (penises) representing strong fertility.
For couples having problems conceiving children, they visit the cave and present an offering of the carved phallus.
Along this beach are stunning white sandy areas, rock climbing, and of course sunbathing and eating from one of the many food shops serving Thai food, vegetarian, and western options.
Chicken Island (Koh Gai)
The island is named after its distinctive limestone rock formation, which some say resembles a chicken head. It's a loose resemblance, ok? ha-ha!
This is an ideal spot for viewing Krabi's coastal marine life, making it a popular spot for snorkeling and diving. Your boat will stop here for snorkeling in most cases and has the gear for you to rent, or it should be part of the package. Bring your own snorkeling gear for the best experience.
You can also sunbathe or just explore the beach and island a bit as you walk around if you don't want to swim or snorkel. Or, do it ALL.
Tup Island (Koh Tup)
This island is very close to Gai Island and when the tide is low, there is a sand bar that reveals itself and you can walk between the two islands on this sand. It's an awesome place for photos as well as snorkeling here near the coral reefs.
The water is shallow and turquoise in color, making it just perfect for photos.
Poda Island (Koh Poda)
The last island on your trip (usually) is Ko Poda. It has lovely views of white sandy beaches, clear water, and towering limestone cliffs jutting straight tout of the water.
You can swim in the ocean, sunbathe, and go snorkeling or exploring the island.
On this island, you have restrooms, food stalls, and shaded areas to get out of the sun.
4 Island Tour Info Essentials
Duration: Full-day tours are typical so you can enjoy what each island offers. You'll leave in the morning from your hotel (transfers are included from Ao Nang) and you'll arrive back at the mainland in the afternoon.
if you like you can ask for a quick, half-day tour by just asking longtail boat owners if they'll take you to all the islands on your own schedule.
Transportation: Travel between the islands is typically done in a longtail boat. These are traditional Thai wooden boats with long tail-mounted engines that can be extremely loud. You should bring earplugs for this long trip, and we're not joking. Please cover your kids' ears too – no sense in them losing some of their hearing range for this 4 island tour!
Longtail boats are known for their maneuverability and are most commonly used for island hopping tours in the Krabi area.
Inclusions: The 4 Island tour package usually includes hotel pickup and drop-off from Ao Nang area, the ride on the longtail boat, snorkeling equipment (mask and fins), and a packed lunch. Some tours may also provide drinking water, fruit, and a local tour guide.
All tours should have accident insurance and enough life vests on the boat for everyone. There have been a number of boating accidents, so do make sure of these essentials.
Activities: The 4 Island Tour offers a fun boat ride, swimming, snorkeling + gear, sunbathing, exploring the islands' beaches, caves, and restaurants, and hiking trails. Some tours may also include the chance for kayaking or paddleboarding.
Tips for Enjoying Your Tour
Bring only approved sunscreen that won't damage the coral reefs, a hat, sunglasses, earplugs, a towel, and a change of clothes.
Don't forget to bring your camera or smartphone to capture the beautiful landscapes.
Pack some snacks and additional water if you prefer extra refreshments during the trip. Make sure to find out what drinks and food is offered for your tour. Some don't have anything included.
Be respectful of the environment and follow any instructions provided by the tour guide regarding conservation efforts and responsible tourism. Don't step on the coral. Don't use sunscreen that isn't approved.
Weather: When the weather is bad, tour operators may cancel the trip. This is for your safety and to make sure you have an enjoyable time. Large waves and lightning are the two factors that cancel trips most often. Be prepared for that call during the rainy season (May to October).
We know you'll enjoy your 4 Island Tour off Krabi's coast and the unforgettable memories you'll make will bring you back to explore the stunning natural beauty of this area again and again!
Jellyfish can be very dangerous. If you see some in the water, don't assume you can just avoid them because there are not that many. Some parts of them break off and are floating around on their own and can still sting and cause great pain. Box jellyfish are seen occasionally (can be deadly).
Pregnant women should not join this trip on a speedboat or longtail boat. Waves can increase in size anytime and it can be very uncomfortable and dangerous if you're carrying a child inside!
At Krabi national parks there are rules about which sunblock can be used if you're going in the water near coral. Ask the tour operator before applying any lotion. They probably sell it.
Bring Dramamine for motion sickness if you or your children might be prone to it. It can be a long day if someone is sick.
Being in the sun for 6 hours on.a boat and islands can make for very sunburned skin. Wear big hats, loose clothes, and use polarized sunglasses for the best protection. You can also see a lot of fish under the water if your lenses are polarized!