Ko Poda is a small island just off the coast of Krabi mainland, and closest to Railay Beach West and Phra Nang Beach at Railay. This small island is a quick stop on the way to other islands in a 4-Island Tour, or a simple long-tail boat ride from Ao Nang or Railay out to see the closest island.
Crowds can be a bit overwhelming here during some of the high-season months, but if you go early you'll miss most of them.
What is Poda Island and Ko Poda Beach Like?
Located just 5 km (3 miles) Southwest of Railay Beach West, this is the first in a group of two small islands. Just next to Ko Poda is Ko Kai (Gai) Island, or Chicken Island as it's known in English. Both of these islands are stops on most 4-Island Tours you can book from the mainland or Railay Beach.
Ko Poda is a roughly oval-shaped island that is 1 km long (3,300 ft.) and 800 m (2,620 ft.) wide at its widest point. A sandy beach (Poda Beach) extends from the Northeast part of the island around the East side, and down to almost the middle of the South part of the island.
On the Southwest side between towering limestone is a tiny little beach named Secret Beach. Of course, it's not much of a secret by now as everyone wants to see it. It's well worth the trip around the island by boat to have a look. This spot is almost always crowded, but it's nice to see it and you might get lucky with few people there if you go early or during low season.
If you've been to Thailand before, you probably won't be surprised that this beautiful island is another one that is part of the Hat Nopphara Thara Mu Ko Phi Phi National Park system, so there is a 200 THB fee (adults) and 100 THB for children over 3 years when you take a boat there.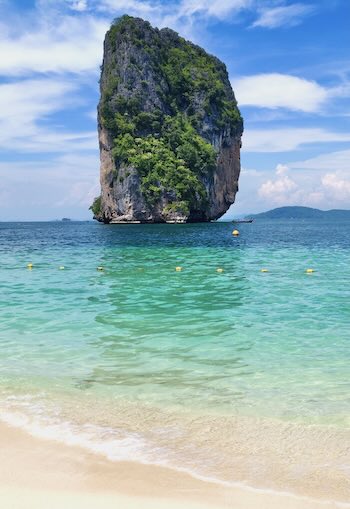 Restaurant and Food Stands?
There are no food stands or restaurants here at Koh Poda. This is usually a short stop on a tour and some tour companies have packed lunches for guests who arrive here. You can of course, bring your own and enjoy the stunning scenery, soft sand beaches, and cool, clean water as you eat a meal.
Google Business Reviews
The island has 650 reviews from visitors and gets 4.7 out of 5 stars from guests who have been there. I'm not sure why this island gets so few reviews, but it must be that it's lost among the other amazing islands you'll see on your tour. In particular, the Ko Phi Phi and Bamboo Islands get a lot more reviews.
Ko Poda Island and Ko Poda Beach Facts
Location in Krabi: Just 5 km. (3 mi.) Southwest of Railay Beach West on Krabi's coastline.
Distance to Krabi Town – Airport: 14 km. – 29 km.
Taxis Available: No, the boat you bring here is the boat you leave with unless you make arrangements with another boat captain you meet on Poda.
Surrounding Islands: Ko Kai (Chicken Head Island) is next to it, just 1 km (.6 miles) South.
Direction Beaches Face: Ko Poda Beach faces North, East, and Southeast. Secret Beach faces South.
Beach Length: Poda Beach is 1.2 km long (4,000 ft.) in total. Secret Beach is less than 30 meters long.
Beach Width: Average width at Poda Beach is 13 m (43 ft.)
Estimated Beach Area: 15,600 square meters (168,000 square ft.)
Beach Quality: The sand at all the Krabi islands is deep, soft, and very light-colored. Ko Poda is no different! You'll love the beach here and it's big enough to find a quiet space if you need it. As with most Krabi and Phuket beaches, they can be dirty as the tide brings trash occasionally and the locals are not quick to pick it up.
Ocean Bottom: Sandy on the Northeast side, and lots of coral under the surface on the other sides of the island.
Restroom/shower Facilities? Yes, there is a basic restroom at the food hut.
Beach Features: Lots of sand and a place to swim on the Northeast side. The center of the island has limestone rock that towers 160 meters over the beaches. There are some palm trees planted for palm oil here on the East Coast.
Lifeguard Available? No, we haven't seen one.
Sunbeds Available? No
Umbrellas? No
Public or Private? Entrance fees? Public, 400 THB for adults. 200 THB for children over 3 yrs.
Water quality: Excellent. This is far from the mainland and the water around the island is shallow on the East and Southeast coasts.
Boat Anchorage? Small boats can pull up to the sand on the Northeast side.
Boat Dock and Marina? N/A
Longtail Boat Rentals? Not from here, but you can find boats to here easily at Railay, Ao Nang Beach, and Krabi Town.
Speedboat/longtail boat tours possible? To reach here, yes. To get here to go somewhere else, no.
Slope into the Sea until 1m Deep: 3-10 meters. Easy slope. Great for children.
Convenience Shop? No
Attractions: Nothing except the beach, this is a small beach with the attraction being the lovely sand, water, and views.
Activities: Good snorkeling all over the island. There is a lot of coral just under the water in many spots. Bring gear with you.
Massage Available? No
Picnic possible? Yes! Bring your own food from Phi Phi or the mainland and have a beautiful picnic.
Surfing? No, the waves are not usually big, and there is too much dangerous coral right under the surface in most areas of this island for safe surfing or bodyboarding.
Jetskis, Parasailing, Skiing, Windsurfing? No
Smoking? In November 2017 Thailand began limiting smoking on beaches and in other public areas. High fines and jail time are possible.
Warnings: Bring your own food and drink. Be careful of currents if snorkeling or swimming far from shore.
Waste Runoff into the sea? No, there are no accommodations or restrooms here.
Conservation
As you explore Ko Poda Island, remember that you are a guest in this fragile ecosystem. Dispose of waste properly, avoid damaging the coral reefs, and respect the natural beauty of the island, ensuring that future generations can continue to cherish this tropical gem.
How To Visit Ko Poda Island?
Reaching Ko Poda Island is easy from Railay Beach West, Tonsai Beach, Noppharat Thara Pier, the Marina in Krabi Town, and from the Phi Phi Islands. From Phuket or Krabi, you can opt for a 4-Island speedboat tour, which typically takes around 30-45 minutes to reach the first island and provides a thrilling and bumpy ride across the Andaman Sea.
Tips for Visiting Ko Poda Island
Plan your trip during the dry season. If you can, the best time to come to Ko Poda is from November to June if you're trying to avoid the rains. To be honest, the rain in Krabi is only horrible in September and October during most years, and tolerable all the other months. But, up to you!
Avoid peak season crowds. There are far fewer people in Krabi on the islands from May through October. If you want to avoid crowds, come during this time for the best experience.
Protect yourself from the sun. Hats, long sleeve lightweight shirts, sunscreen, and sunglasses will help to cut down your sun exposure. Don't forget to drink lots of liquids especially if you're drinking nightly!
Respect Ko Poda's natural environment. Throw away trash in receptacles. If you can't find any, store it in your bags until you do. Don't stand on coral reefs. Don't feed or tease the animals.
Other Stunning Krabi Islands