What are Ko Hong Island and Beach Like?
Ko Hong Island is one of the islands that is close to Krabi's mainland shore. In fact, it is just about 8 km off the coast of Tub Kaak Beach in West Krabi in the Nong Thalay Subdistrict. Ko Hong reminds us of Railay Beach West with its limestone rock faces shooting straight out of the water right next to the beach. This is a fantastically beautiful island oasis and one you shouldn't miss if you have a chance to visit!
There is a place to eat and a few things to do like kayaking, swimming, snorkeling, and climbing up to the 360-degree viewpoint. There are restrooms and trash receptacles and of course, you'll have a 400 THB fee for adults and 200 THB for children over 3 years of age because this is part of the Thanboke Khoranee National Park.
You can reach Ko Hong from Tub Kaak Beach, Noppharat Thara, or Ao Nang Beach. It's 17 km from Ao Nang and kind of a long ride on a slow long-tail boat. It's quite remote and will give you that feeling of isolation you may be craving, even though it is likely to have some other tourists on the island with you at the same time.
Restaurant and Food Stands?
There is one food area with hardwood tables, chairs, and benches called "Food Service." This has some basic Thai food meals and snacks, including an assortment of cold drinks to refresh you in the heat of the day. There is a small bar and coffee shop called Bi Le Bar Cafe where you can get some drinks and caffeine to get you going before you climb the 400+ stairs leading to the stunning viewpoint.
There is no alcohol allowed to be served here because it's a national park. It shouldn't be called "Bar" at all.
Google Business Reviews
The island has nearly 3,500 reviews from visitors and gets 4.7 out of 5 stars. Most guests loved the location, the wide sand beaches, the incredibly clear and blue/green water, the fun things to do, and the viewpoint is something everyone that could – enjoyed doing.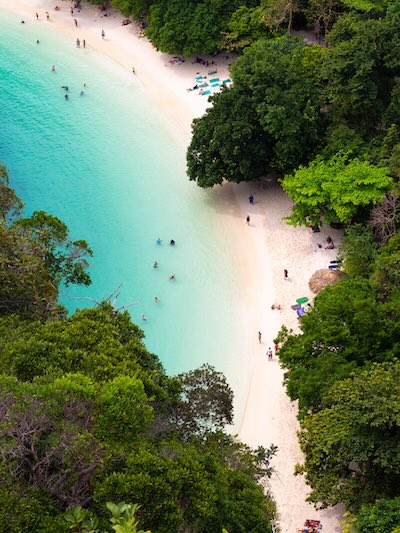 Hong Island and Hong Island Beach Facts
Location in Krabi: Ko Hong is located 17 km west of Ao Nang Beach and about 8 km West of Tub Kaak Beach.
GPS Data: 8.07943313380941, 98.68097549954567 or here: Hong Island.
Distance to Krabi Town – Airport: 30 km. – 45 km.
Taxis Available: No, the boat you bring here is the boat you need to go back to the mainland with.
Surrounding Islands: Close by just to the North are Ko Lao Lading, Ko Ya La Hu Tang, Ko Pak Ka, Ko Lao Ka, and Ko La Riam.
Direction Beaches Face: The main Ko Hong Beach faces Southeast.
Beach Length: Ko Hong Beach is 200 meters long.
Beach Width: The average width of the beach here is 5 m (15 ft.)
Estimated Beach Area: 1,000 square meters (10,764 square ft.)
Beach Quality: Like other islands off Krabi's coast the sand is soft, deep, and light-colored.
Ocean Bottom: Sandy with scattered rocks and coral bits.
Restroom/shower Facilities? Yes, there is a basic restroom near the food service area.
Beach Features: You can snorkel, swim, kayak, get some sun and zzz's, and climb a 400+ step stairway up to a circular viewpoint giving you unobstructed views all around the island.
Lifeguard Available? Yes, during high season and daylight hours there is one.
Sunbeds Available? No
Umbrellas? No
Public or Private? Entrance fees? Public, with fees of 400 THB per adult and 200 for kids over 3 yrs. Thais pay much less and can often get in for free.
Water quality: Excellent. This is far from the mainland and the water around the island is shallow and has great visibility.
Boat Anchorage? Small boats can pull up to mooring balls on the Northeast side.
Boat Dock and Marina? N/A
Longtail Boat Rentals? No
Speedboat/longtail boat tours possible? To reach here, yes. To get here to go somewhere else, no.
Slope into the Sea until 1m Deep: 3-6 meters. There's a gentle slow in the swimming area which is great for kids.
Convenience Shop? Yes, with some limited snacks and essentials.
Attractions: Viewpoint towers above the beach and gives you 360-degree views. There is a hidden bay you can take a boat to. It's shallow during low-tide. The island is mostly towering limestone rising up out of the water.
Activities: Snorkeling (bring own gear), swimming, walking and exploring the beach, climbing up the viewpoint, and kayaking. The island's waters have a diverse array of marine life, offering excellent snorkeling and diving opportunities. Discover colorful coral reefs, playful clownfish, graceful sea turtles, and perhaps even spot a majestic manta ray gliding through the depths. The best thing you can do is at night during a no-moon night when the blue bioluminescent plankton are out in abundance!
Massage Available? No
Picnic possible? Yes! Bring your own food and towel to make a picnic with family and friends.
Surfing? No, the waves are not usually big here.
Jetskis, Parasailing, Skiing, Windsurfing? No, but you should bring your snorkeling gear and camera for photos on top of the viewpoint.
Smoking? In November 2017 Thailand began limiting smoking on beaches and in other public areas. High fines and jail time are possible.
Warnings: Bring your own food and drink to save money and be sure you get what you want. There's a limited selection at the convenience shop and food stand. Be careful of currents.
Waste Runoff into the sea? No, there are no accommodations here, and we couldn't see any smelly areas where the restroom let out into the ocean.
Best Activity Thing To Do on Ko Hong Island?
Check out the blue plankton at night! There are some excellent photos and videos you can find on this page and you can learn all about the Blue Biolumenescent Plankton >
Conservation
Hong Island is part of the Thanboke Khoranee National Park so there are fines for littering and destroying or disturbing the environment. Take extra care not to damage any coral formations you may find. Dispose of waste properly and take care to leave the island just as you found it.
How To Visit Ko Hong Island?
Getting to Ko Hon Island from Tub Kaak Beach is easiest, as it's only 8 km West from there. If your'e in Ao Nang Beach it's a 17 km ride.
Tips for Visitors
May through October is the low season and the fewest tourists. If you'd like to see fewer people, this is the best time to visit Krabi.
Save money on islands by bringing your own snacks and water. Island prices are really expensive and if you're willing to carry a little more in a backpack or bag, you'll save considerable cash.
The sun is relentless. Bring along an umbrella, sunscreen, a hat, and sunglasses to protect yourself from the sun on boat rides. Especially long boat rides over 10 km. Bring earplugs too because some long-tail boats will break your eardrums!
Respect the island's natural environment. Don't litter, or damage the coral. Don't smoke or leave cigarette butts around. Clean up after yourself and children.
Other Stunning Krabi Islands