Krabi Nature is excited to be able to offer you something that nobody else can – Camping in the jungle at night! Camping is located in Krabi province and is an adventure you should try for your bucket list. Is it scary? Some people think so! Is it safe? It's quite safe, we haven't lost anyone yet. Not yet anyway! Joking, joking, it's quite safe and a great experience for anyone who wants to try.
We have 4 areas we can camp overnight in the rainforest in Krabi. One of them is a long hike that requires a camp overnight as you climb to the top of the highest mountain peak in Krabi nearly 1,397 meters high (4,583 ft. elevation). If you're interested in that trek, it's #1 below.
Camping Trip #1 – Top of Krabi
Long Mountain Climb Hike and Overnight Camp at the Top of the Highest Peak in Krabi Province
This is our longest hike and requires a camp at the top until the next morning to finish the climb to the top peak of 1,397 meters high. Thai guides accompany you to the top and carry some of the necessary gear like tents and water.
This is a difficult hike that only fit people should try. There is a lot of climbing and the ground is hard, often time it is rocks. The top of the mountain is cold, so you'll need to bring pants and long sleeve shirts or jackets. You should bring food and water too.
The hike up to the campground takes about 7 hours. You leave in the morning and arrive in afternoon depending on the speed of your group. You camp out at the 2nd peak and climb to the top peak in the morning.
Are you ADVENTUROUS? Are you FIT? Try it! It's an unforgettable hike to top of Khao Phanom Mountain!
Camping Trip #2 – Dragon's Lair
3.5 km Hike Up Mountain and Overnight at Top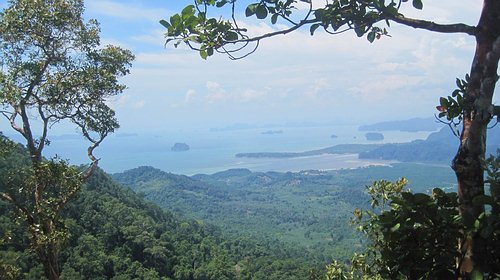 There are two places we can camp at this mountain top, one of which is right at the top, and the other is down a path a couple of hundred yards near a small waterfall where we cannot see the stars and the forest is pitch black.
You can choose either one, but we like the top campsite where we can see the stars and feel more of a breeze at night.
The views are spectacular from this mountain, you can see Thalen Bay and Ao Nang, and on clear days even Koh Phi Phi. Most people can do this hike, it is difficult but even 10-year-old kids can make it.
There are steep climbs that take the wind out of you, so if you're fit, it will be more fun. The group leaves about 3 pm. and hikes for 2 hours to the top. You can eat, and take night photos of the stars. In the morning, sunrise is especially nice and great for photos.
Camping Trip #3 – Owl Hill
Close to Krabi Town Overnight at Mountain Top (Hike Up or Drive)
This camping trip requires either a hike up a remote Krabi road to the top (3.7 km) or we can drive to the top and drop you off. Up to you. The walk up the hill is on a little-used road and we always find wildlife on the way up. Owls, slow lorises, frogs, lizards, and insects are always found and it's great for photos.
Camping Trip #4 – The Captain's Hill
A Short Climb to a Viewpoint and Camping at the Top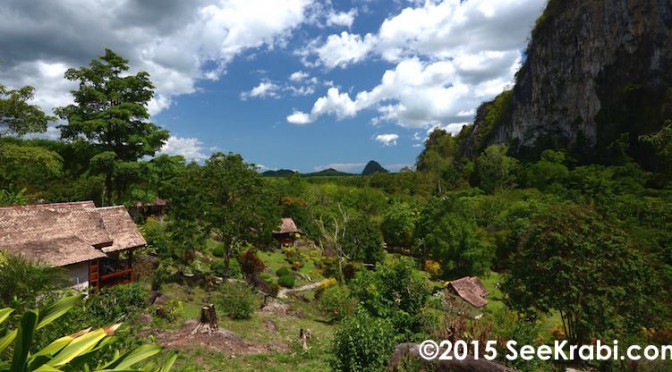 This is one of our shorter hikes to set up camp at the top of a hill next to the massive 1,397 meter high Khao Phanom Mountain. It is not that difficult to do and most people can accomplish it.
The bonus here is that you can eat dinner at the lakeside restaurant and leave your stuff at the office of this wilderness bungalow before we start hiking. If there is anyone in your group that would prefer not to camp out, there are bungalows to stay in and we'll meet up with them when we get back.
The wilderness area here is safe and we always see some wildlife. We leave at night for the hike.
Are you READY TO GO?
Email Lek@krabinature.com to ask questions and book a camping adventure. Let us know which number(s) of camping you are interested in.