[Page updated: 9 November 2023]
Though Krabi is a Muslim-majority province, there are still plenty of cool temples you can visit during your vacation to Krabi Town, Ao Nang, and Ko Lanta. We'll also tell you about a couple of outlying temples that nobody else seems to mention.
One Krabi temple in particular, Wat Theprattan, is fun to explore because it has a cave a monk will lead you through! Let's see what temples Krabi has!
Krabi Town's Most Interesting Buddhist Temples (Wats)
Tiger Cave Temple is the most visited Buddhist temple in Krabi province because there are some fun things to do here. Your first choice is to climb the 1,256 concrete steps up to the top of a steep hill where there is a large Buddhist shrine and platform for you to see the incredible views and sunset at 6:30 pm.!
Tiger Cave Temple also has a smaller climb up and back down into the foothills area where you can see monks living in limestone caves!
The temple has about 4 restaurants just inside the entrance on the right and some well-stocked snack shops with all kinds of drinks and a variety of ice cream. You should definitely come here and do one of the climbs. It will be one of the highlights of your trip to Krabi!
Open Hours: 5 am. to 4 pm. it says on their Google listing. However, you can go to the steps to climb to the top to view the sunset and come down around 7 pm. if you wish. There are no lights on the steps, so bring a flashlight or a light app on your phone. Dogs may be crazy at night. Be careful at the bottom.
Location: On the way to the Krabi International Airport on Highway 4 you take a left when you see the Buddhist shrine on top of the high mountain. GPS 8.12411457295344, 98.92470031105576.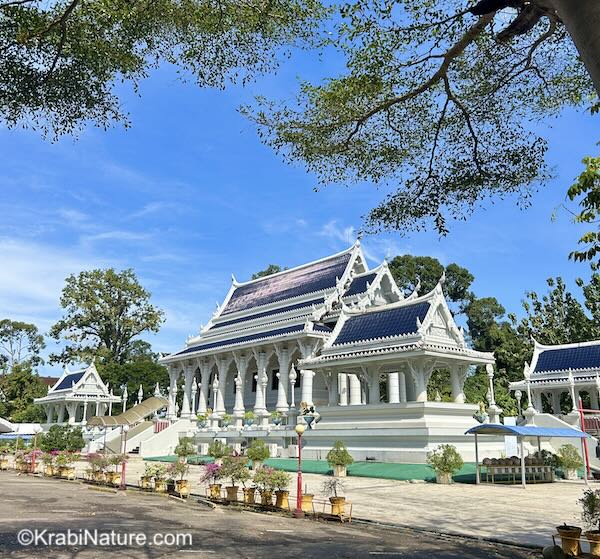 This beautiful temple is dominated by the color white which is odd for temples in Southern Thailand, but Phuket has one and Krabi has one. In Chiang Mai, white Buddhist temples are more common.
You should go to see Wat Kaew Koraworam Temple for the photos you can get of the white building and interior, the small cemetery, and the brilliant pheasants (peacocks) you can find here imported from India.
Open Hours: 6 a.m. to dark. After dark the dogs may bark a lot and it's not fun.
Location: Situated right in the middle of Krabi Town, you can walk here from just about any hotel. It is located across from the Vogue Mall on Maharat Road, and closer to the beginning of the road. The entrance is at street level, and it goes back off the street and up on a hill. GPS 8.063191843140677, 98.91406492131861.
Wat Panurat Prachasan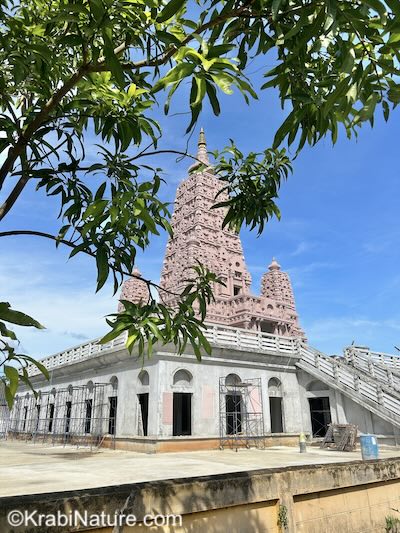 This little-known Krabi Temple can be found between the Krabi Hospital and Ruen Thip Restaurant. This is rarely ever seen by foreign visitors because the temple is well hidden! It has beautiful grounds though and the occasional foreign Buddhist monk stays here.
We had the occasion to meet a monk from Peru who was studying Buddhism under the local abbot at this temple. We talked for hours!
Location: Come past the public Krabi Hospital on Uttaradit Road. At the next stoplight make a left. On the first road, make a left. Drive for 100m (100 yards) and look on the right for the temple. There is a small road that leads to the entrance. GPS 8.078685368116654, 98.91277690405731.
Best Temples in Ao Nang
Reclining Buddha Temple
In Sai Thai area between Ao Nang and Krabi Town is this small temple on a sharp bend in the road called the Reclining Buddha Temple for obvious reasons. There is a massive Buddha here. This is an excellent place to go to escape the rain showers that surprise us on motorbikes often to and from Ao Nang Beach!
Stop and see this temple and take some photos like everyone else!
Location: By GPS 8.082406089784596, 98.86874747949149.
Chinese Boddhisattva Buddhist Temple
This is more like a shrine than a Buddhist temple, but it is an attraction that many people go to photograph. You might enjoy it if you're close by.
Open Hours: 24/7. Go anytime.
Location: If you are in Ao Nang, you can find this Buddhist shrine by going to the small Makro store and then up the road to the big market area. By GPS 8.039187437995059, 98.84412349283436.
Ko Lanta's Best Buddhist Temples
International Buddhist Meditation Center
This is a Buddhist temple and they also offer meditation sessions for foreigners who speak English. The monk is available for meditation sessions at noon and some questions and answers. Here is more on meditation in Krabi temples if you're interested.
Open Hours: Every day from 8 am. to 6 pm. The meditation starts at noon daily and monks require that you wear pants, not shorts or dresses.
Location: By GPS 7.52268127853035, 99.06446538926916.
Wat Ko Lanta
This is the biggest Thai Buddhist temple on Ko Lanta Island. It is more like. a traditional temple where they do everything in Thai language. They teach local children how to meditate and have typical ceremonies for Thais here. This is not so much a temple for foreigners, but of course you are welcome here to walk around and take photos or meditate.
Location: By GPS 7.533022325401477, 99.09010648645949.
Outlying Krabi Temples
On the other side of the Khao Phanom Mountain chain, you can find this small temple nestled into the bottom of a massive limestone hill. There are small caves to explore and some photos to be had.
The monks here are not used to receiving many visitors, but they will show you the diamond-walled room if you ask. To be honest, most don't speak any English at all, but the abbot who runs the temple does!
Location: By GPS 8.166776928410538, 98.88831726530078.
Another Krabi temple you can find on the way to Huai Toh Waterfall is Theprattanporn Temple. This one is hard to find, so I'll give you the GPS location below. When you pull in you will have monks greet you almost always, and there may be some dogs barking, but they are usually quiet after a few minutes.
You can walk up to the large cave on the hill on the right side and take photos and maybe you will see a monk when you climb back down. On the left side of the parking area where you drove in you will find paths to some caves. It's better if the monks lead you around. Please give a donation if they do! There are a couple of donation boxes near the entrance to the caves.
Location: By GPS 8.168975601734642, 98.88143687063486.
Chong Sam Kaew Temple
If you want to be able to say you saw one of the most obscure temples in Krabi, you can go visit Wat Chong Sam Kaew Temple across from the Makro store on the way to Krabi Town from Phang Nga. This is a small temple with a couple of opportunities for photos.
A long time ago we climbed a ladder that led to a coffin in a small cave and a skeleton in it. If you see that, take a photo and send it to us! There are some ponds with fish and turtles. You can buy some fish food to see the fish erupt in a feeding display.
Location: Across Highway 4 by the Makro closest to Krabi Town you'll see a bus stop hut and a road leading back into the countryside. Take that road and go a couple of hundred meters. See the entrance on the left. By GPS 8.12327108094392, 98.87856999314364.