If you would like to find the most scenic places in southern Thailand for a landscape photography field trip shooting beautiful scenery at the beach, or in the forest, this is the one for you!
Request More Info Here >
While nature and wildlife photography has been our main focus, we also get requests to take photographers to the best spots for landscape and other scenery including forests, rivers, waterfalls, etc.
We have begun offering this as a service and we're ready to help you find the best spots in the area.
Areas Covered
Krabi mainland and islands. Krabi is made up of an enormous number of beautiful scenes from mountainscapes, landscapes, and oceanscapes to finding beautiful spots in and near caves, waterfalls, rainforest, rivers, and mountain tops.
Customized Photo Tours
These are custom Thailand landscape photography field trips, so you can tell us what you most want to photograph and we'll put together a schedule to focus on that.
The variety of field trips you have access to is virtually unlimited. We can do anything that is legal and reasonable.
Photo Field Trips from the Past
Here are some trips we've taken clients on in the past just to show you the variety of trip you can plan with us.
1. Advertising Photographer. This was a commercial shoot in Krabi with 2 models, an assistant, the photographer and one of our guides. He needed trail running scenes to photograph his brand-name gear. This was two years ago. A well-known advertising photographer contacted us to provide locations for photo shoots of his trail running gear – shoes, shirts, shorts, waist packs, bladders, running vests, hats, etc. He required trail scenes up steep hills as well as near water and unique trail habitat. He booked 7 full days with us. We stayed close to the mountain where we ate at the bungalow restaurant for all of our meals and shot all day on the trail. It was a hot and sweaty week, but he got what he needed.
2. German Landscape Photographer. A photographer from Germany working with a filter company came over for a couple of days. He is known for shooting dramatic skies and mountain vistas. We scheduled two locations, one in the foothills of a local mountain chain, and another that required climbing a limestone karst to capture a surreal landscape scene just after sunset.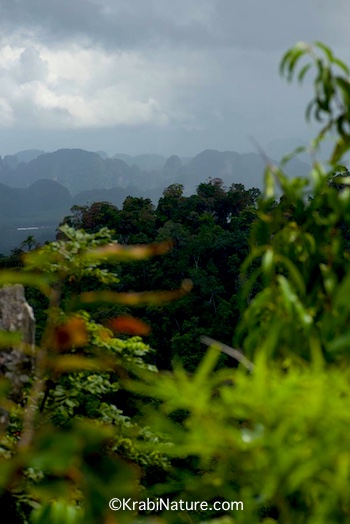 3. Recreational Photographer. This woman and her sister wanted to capture as many beach scenes as possible in a day. We started with Thalen Bay, then Tub Kaak Beach, Klong Muang, Hat Nopphara Thara, Ao Nang, Railay Beaches (east and west), and Tonsai Beach all of these are places around Krabi. They went on to Ko Phi Phi islands and some other islands to photograph more over the following days.
These are just some examples of the couple dozen people we've had come to shoot primarily landscape and other natural scenes. Your photo field trip can be anything you require!
The rainforest here in Krabi province is really stunning. Krabi is a great base for Thailand landscape photography tours because we have so much to see and photograph.
This is a great jumping off point to many other ultra-scenic destinations like Trang, Ko Lipe, Ko Lanta, Ko Jum, Ko Samui, Phang Nga, Phuket, etc. We're really the center of it all and nothing is too far away – even Malaysia (Langkawi, Penang Island, etc.).
The nature around us – flora and fauna, as well as the scenery that makes Thailand so special, is all around us.
We have the amazing vistas.
You just have to decide, what will you focus on?
Our Southern Thailand Landscape Photography Tours can be customized to fit exactly what you're looking for. There are numerous national parks and wilderness areas, beaches, and mountains we can choose from. Let us know what you're interested in and we'll create a plan for your trip.
Request More Info Here >
Typical Photography Tour Schedule
Breakfast: Early, sometimes very early if we're going to get sunrise shots. We wake up, get our gear together to meet the demands of the day. We eat and then drive to our planned activity.
Once on-site, we'll decide on a plan of action – sticking together, fanning out, going separate ways, there are usually options to go at your own pace. We don't want to slow our photographers down, and we don't want to push you to pick up the pace. The pace is yours to decide in most cases.
Of course, this depends on the group. The most independence is when you come with your own group or individually.
Some days we'll stay at the same location. Other days we might have something else planned to visit. Typically we won't split the day up into a morning session and an evening – night time session. We'll either do morning and day or evening and night sessions on any one day.
Lunch: Usually 5-6 hours after breakfast and on the road somewhere convenient. Snack opportunities exist throughout the day by bringing what you want in your bag or we can stop at 7-11 or Family Mart to fuel up.
Dinner: Usually after 6 pm.
Walking Distance: We can go anywhere from 1 kilometer to many kilometers per day, based on your ability. If you can do it, we can do it!
Hours Per Day Shooting Photographs: 5-8 for a full day.
Number of Days and Nights: We can work out a schedule that may go for multiple days. Ask us and we'll work something out..
Recommended Clothing and Gear List: (click)
Internet: WIFI is widely available in most populated areas. In national parks and some other remote areas we may not be able to find it. Thailand uses WIFI, 4G, 5G, LTE for mobile data connections that might work for you if you can add a Thailand SIM card to your mobile phone.
Included Costs: Accommodation, transportation, and food (3 meals) are covered once we pick you up at the airport, bus station, or ferry. Internet will sometimes be available where we stay or where we eat. If you need to make use of it frequently, do let us know.
Snacks and other supplies can be found at one of the numerous stores we'll be close to.
Batteries you need may be difficult to find. If you need A123 batteries, watch type disc batteries, or something else outside the usual AA, AAA, D, etc, we strongly suggest you bring what you will need over the course of your tour.
Cost for your trip will depend on your itinerary and the number of hours or days it takes. A typical one day rate is 6000 THB. There may be more charges if a lot of driving is necessary.
Southern Thailand Photography Tour Fees: A photo field trip to one location can be as little as 3900 THB for a 4 hour field trip. We have longer tours lasting 1-5 days as well. Once we finalize a schedule for your field trips, we can give you a firm price.
Here are typical rates for field trips per day and half-day (each person):
1 person – 4900/3500 THB
2 persons – 2800/1900 THB
3 persons – 2800/1900 THB
4 persons – 2800/1900 THB
CONTACT HERE FIRST if you are considering a tour and want to ask questions, etc.
Groups: If you have a group, please let us know soon because we made need to reserve transportation.
Maximum Tour Group Participants: The maximum is usually eight (8).
Minimum Age: 8 years. This is not set in stone. If you have a mature son or daughter that will be accompanying you on this trip and they don't mind what we're doing, then great!
Private Tours: We do have the option for private tours, which means nobody outside your group will go with us. Your tour members will include just your group of 2-8, one staff photographer, and our driver (Thai).
Note
Southern Thailand is where we've spent the last 20 years of our lives trekking trails through dense canopy covered jungle paths and even forging new trails where necessary. We know the area and when scenes look their best.
That said, we may need to research a bit before you arrive so try to tell us everything you'd like to capture in your photographs before you arrive. Sure there are always spontaneous finds, but the more info we have about what you're looking for, the better.
Thailand has been our home for a couple of decades. We'll still be here when you decide to come over for your photographic adventure.
Request More Info Here >
Landscape Photography Images (just a few – we'll post more! >
Read about our custom Wildlife Photography Field Trips here >
All Krabi Attactions and Things To Do >
Wildlife Field Trip Photos
All Krabi Nature wildlife info >