Tub Kaak Beach is located over by Ngon Nok Nature Trail in Tub Kaak, a subdistrict of Krabi past Ao Nang and not quite to Thalen Bay. The Amari Vogue resort is located here as is "The Tub Kaak" resort.
This is a beautiful spot to relax on a clean beach with a great restaurant within walking distance, or just stay at one of the top-rated resorts here and dine there.
The area is rather isolated and there are only about 5 resorts here and nothing else. Some food vendors come to sell on the beach, but there are few.
Photos of Tub Kaak Beach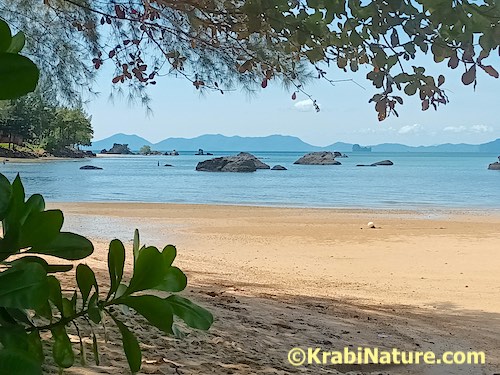 The Sunset Restaurant
The photo above shows the large restaurant here at Tub Kaek Beach with deck seating and a large menu and drinks menu to choose from. Prices are reasonable and the food is good if the reviews are to be believed. There is eat-in and take-out food available so if you want to grab it and go – feel free!
Most of Krabi's Mainland Beaches are Nice but have Flaws
Ao Nang Beach has very little sand in most places and dogs sometimes attack little children. No joke. This has been going on for decades.
Noppharat Thara Beach is beautiful and has 2 little islands you can walk to and it's idyllic. Except that DOGS also attack little kids sometimes. Keep your children NEXT TO YOU.
Thalen Bay has no real beach.
Beaches on Koh Jum are fantastic, and highly recommended.
Koh Lanta beaches are sometimes littered with garbage brought in by the tide.
Tub Kaak Beach (Tubkaek Beach) is really nice and so far there are no dogs around. As you can see from the featured image at the top of this post, the beach is really amazing to look at.
How to Find Tubkaek Beach?
Use the GPS coordinates below to find this beach. It is out past Ao Nang Beach and almost to Thalen Bay. It faces south toward Khao Yao Yai and Noi, and the island of Phuket.
8°05'22.6″N 98°44'48.2″E, or click HERE to see it on Google Maps.