We have a lovely wilderness resort with private bungalows on a beautiful hillside facing steep limestone cliffs. You're welcome to stay here and enjoy your time in the rainforest. We have hikes you can arrange with us or explore on your own.
There are bungalows with 1 or 2 beds for 1-4 people. We have warm-water showers!
These are basic wooden bungalows with enclosed walls, a porch, fan, mosquito net, bed, pillows, bedspread, and blankets. Bring your hammock to stretch it out on the porch!
Our lovely nature resort has been operating since early 2000's. We have about 15 bungalows to rent, and sometimes they do fill up so reserve your place as soon as you know you're coming!
We have an entire website for our wilderness resort at PhanomBenchaMountainResort.com. Please come over and see our lush green grounds and meet our manager, Son, and his family.
Reasons to Stay at Phanom Bencha Mountain Resort
Private bungalows in a perfect natural setting with the contrast of green grass, green rainforest, and towering limestone cliffs!
Exceptional food at our on-site restaurant overlooking the lake. Some of the best Thai food in Krabi at VERY reasonable prices.
Warm water showers!
Outdoor stream-fed swimming pool (lounging pool).
Cool rocky stream for lounging.
Lake for fishing.
Abundance of bird species! Geckos! Lizards! Butterflies!
Son and his family are exceptionally friendly and they'll do everything possible to make your stay a memorable one!
Night Field Trips to find Bugs, Slow Lorises, frogs, geckos, etc. Anything we can find! (info here)
Climbs up a mountain to a great view and small waterfall, or a long hike through the forest to reach the big waterfall (info).
Probably the best reason to stay at our nature resort for a couple of nights is to de-stress from the crowds and life back at home. We have many customers come back year after year and spend a week or a month here to slow down and enjoy a simple life.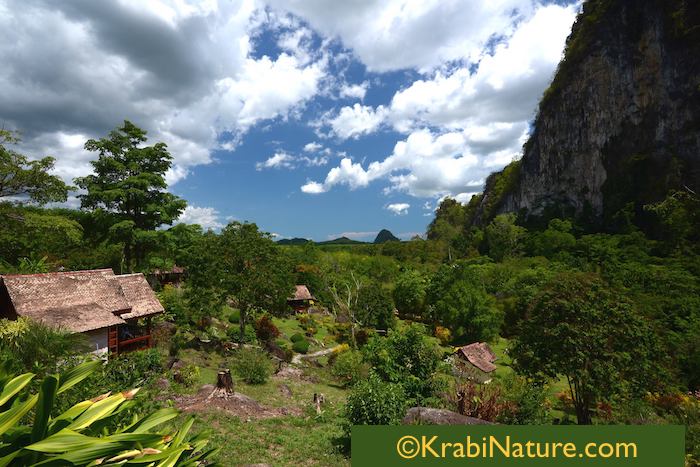 Nature Field Trips Available
Night Walk around the Resort and waterfalls, pools of water to see what we find. Typically we can see slow lorises, tokay geckos, frogs, toads, bats, and sleeping birds.
Snake / Reptile Night Walk! We focus on snakes and reptiles, and maybe spiders too, to see what we can find. Usually we can find a snake or two, and we can always find other animals to take photos of.
Hill Climb to Viewpoint (Daytime). A short, but sometimes steep climb up through the rainforest. A good challenge to work up a sweat. Couple hours of hiking involved. Sometimes muddy. Always fun!
Waterfall Hike. This is a longer hike to the big waterfall at the national park on the other side of the mountain. We don't need to climb the entire mountain to reach it, but there is some climbing.
Hill Climb to Viewpoint #2. This is a longer (3.7 km each way) climb up a hill during daytime or at night as we look for interesting wildlife.