Though the fishing from shore is not very good in Krabi, there are a few decent stocked fishing lakes run by locals and foreigners where you can fish all day for reasonable rates. Some places allow you to take your catch home to eat. The foreign run lakes do not, as they have very expensive fish in their lakes.
We look at some of the most popular freshwater fishing lakes in Krabi here.
Or, book a saltwater Fishing Charter for 1/2 or full day.
Krabi Things to Do Review of Fishing Lakes
We look at a few fishing lakes here in Krabi. They all also offer food you can buy and eat dinner at the same location. The lakes are spread out, we'll give you GPS coordinates for each
Krabi Fishing
In Thai, this one is กระบี่ ฟิชชิ่ง on Google Maps. We have been going here to fish and to eat dinner for many years, but not within the last four years. We'll go back and have a look later today to see whether it is still in operation and whether they still have fish to catch in their stocked fishing lake.
You can bring your own gear or use theirs.
They have a beautiful dining area right on the lake, and a large lake about 140 meters long, and about 100 meters wide. You can catch a variety of freshwater species here. We usually catch big catfish.
You can buy bait here, or bring your own.
GPS: 8.138542807478766, 98.87138320264836
Krabi Fishing Park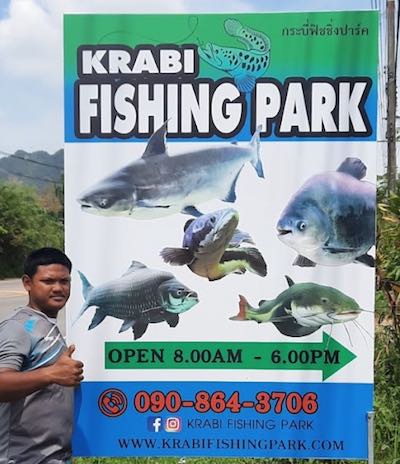 This fishing lake seems to have the most variety of fish species stocked. You can catch a couple kinds of talapia, catfish, snakehead, arapaima, suckers, and even pacu! The people fishing here seem to be having a great time, and I will have to go out and see what it's all about on my next trip out that way.
You can fish and eat there too.
Hours: 8 am. to 6 pm.
Rates: 990 half day and 1,390 full day.
I think those prices probably include your fishing gear and maybe bait. Or, bring your own and maybe fish cheaper. They are open from 8 am. to 6 pm.
Location: You can find this fishing resort on the road leading from Ao Nang to Tub Kaak. GPS: 8.065094060624194, 98.78903966182305
Note – the image at the top of the page was taken at the Krabi Fishing Lake!
Krabi Ice Fishing
Location
As you are traveling on Highway 4 from Phangna toward Trang you will be coming down a slight hill as you are coming up on Krabi town. Make a left turn onto "Huay NamDang" Road across from the Esso Station in Krabi town. You'll go approximately 1.2 km along that road and another sign for the Ice Fishing will be on your right side – (see photo 2). Go down the dirt road and you'll run right into it in 100 meters. GPS: 8.138542807478766, 98.87138320264836
What Can You Catch at Krabi Ice Fishing?
In the past you could catch freshwater tilapia, goldfish, catfish, and a couple of other species. There is a small lake surrounded by jungle that has floating huts on it where you can sit and fish. There is one pagoda in the middle of the lake (see photo) and there are huts around the side of the lake that you can sit at a table and eat if you don't like the idea of eating on the floor of the floating hut.
Food
I haven't eaten there but I'm sure it has good Thai food because there are many Thai people eating there with family, friends or lovers especially on the weekends. See the photo of the price list – and interpretation into English. Occasionally someone will bring a guitar and they'll be getting drunk and loud over some whiskey but usually during the weekdays it is quiet enough to sleep or whatever you have in mind (no s-*-x).
Apparently if you catch a fish in the lake and want to keep it to eat it later you can pay according to the chart that I took a photo of at the bottom of this review. Prices range from 50 to 150 baht per kilogram in weight of the fish. If you want them to cook it they can cook it for you at 40 baht per half kilogram. Kind of expensive I think. Catfish is the least expensive at 50 baht per kilogram to keep.
What about the ICE fishing?
Oh, that? The owner named the place after his child whose name is "Ice". Go figure! I was stumped too – and the funny name of the place is what made me stop by there a couple months back to find out what it's all about. The owner told me that I could have ice in my beer if I wanted… so – that's it – not real ice fishing. Hope you're not too disappointed!
This is a really cool and relaxing place to come and eat and sleep if you want, or try fishing for something. There are some decent size freshwater catfish in there.
Ubon Fishing?
This reminds me of a place in Ubon Ratchathani called Had Ku Dua over off the perimeter road in behind the great seafood restaurant in tents. (Find Benjamaha high school and go toward perimeter road. Make a left. It's on your right.) If you follow the dirt road on the right back past the restaurant you'll find a group of floating huts on the water that is staffed by a girl of about 13 now. Her family makes food or brings beer for you. You can eat, sleep, fish or have s*x in the closed huts that are floating on the water. I think 3 hours was 150 baht and then food and fishing gear might be extra. I can't remember!
Any of the stocked freshwater fishing lakes in Krabi are worth the small fee to pay and are a great place to eat as well.